SDG&E Signs Contracts for Five Energy Storage Facilities
Sunday, April 23, 2017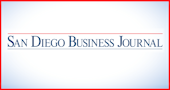 San Diego Gas & Electric Co. said it signed contracts for five new lithium-ion battery storage facilities, meant to store electricity from wind, solar or fossil fuel plants for future use.
The five facilities will make up a total of 83.5 megawatts and will be able to store four hours' worth of energy. They are expected to come on line between late 2019 and late 2021.
Financial terms of the deals were not disclosed.
SDG&E will own and operate two of the facilities:
AES Energy Storage plans to build a 40-megawatt storage facility, augmenting 37.5 megawatts of storage in Escondido and El Cajon.
Renewable Energy Systems Americas Inc. plans to build a 30-megawatt facility in San Diego's Miramar neighborhood.
The other storage projects will be owned by third parties including Powin Energy, Enel (through its U.S. subsidiary Enel Green Power North America) and Advanced Microgrid Solutions. The projects will be located in Escondido, Poway and San Juan Capistrano. SDG&E's service territory extends into southern Orange County.
Advanced Microgrid Solutions said it was building the 4-megawatt facility in San Juan Capistrano to compensate for the shutdown of the region's nuclear plant at San Onofre.
SDG&E also announced a deal with OhmConnect to put a new demand response program into place. Under a new deal, OhmConnect would notify industrial and commercial customers to reduce electricity use within 20 minutes of being called.
San Diego Gas & Electric is a subsidiary of Sempra Energy (NYSE: SRE).
The utility has asked the California Public Utilities Commission to approve the contracts for its five storage facilities as well as the demand response agreement.