HOSPITALITY: $7M IN REDEVELOPMENT SPAWNS DRAMATIC TRANSFORMATION
Food Is the New Retail Attraction in Downtown La Mesa
Originally published April 20, 2017 at 1:32 p.m., updated April 20, 2017 at 1:32 p.m.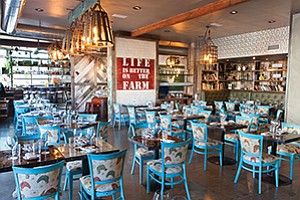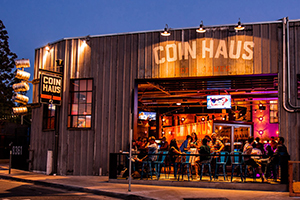 San Diego — Among the latest additions to La Mesa's burgeoning downtown restaurant scene is the full-service Farmer's Table, billed as a "farm-to-fork" eatery with a menu emphasizing locally sourced meats and produce.
Since opening the La Mesa Boulevard venue in February, owner Alberto Morreale says his agriculture-themed dining room, complete with a vintage farm tractor, has remained consistently filled with customers keeping his staff of nearly 40 on their toes throughout the week.
"We thought it would be a very slow buildup of business, but it really has been very busy almost all the time since we started," said Morreale, a veteran restaurateur who also operates Farmer's Bottega in Mission Hills and previously partnered with Johan Engman to open several San Diego area locations of Fig Tree Cafe and Breakfast Republic.
After seeing numerous other old neighborhoods in the region undergo dramatic transformations that turned them into attractive dining and entertainment hubs, and judging by the response to his own new restaurant, Morreale senses that downtown La Mesa is now getting its time at the plate.
Downtown Revitalization
La Mesa city and business leaders credit key civic improvements – led by last year's completion of an extensive $7 million renovation of the century-old Downtown Village neighborhood – with revitalizing the area and attracting several businesses that have either recently opened or are set to debut within the next few months.
"I've seen these changes happen in other communities," Morreale said. "You saw it in downtown San Diego in the 1990s, and you saw it later in places like North Park, Hillcrest and Mission Hills."
Morreale's venue was preceded last fall by the opening of Cohn Restaurant Group's Coin Haus, a retro-style video game arcade with tech-enhanced, self-serve beer taps, next-door to the Allison Avenue location of Cohn's popular Bo-beau restaurant that debuted three years ago.
Earlier this year, local developer Aaron Dean and his business partners opened Boulevard Noodle House, an Asian fusion restaurant with a bar and outdoor sidewalk seating on La Mesa Boulevard. According to the city, Dean and property owner Gregory Houska have another restaurant with outdoor dining in the works for a spot on La Mesa Boulevard, not far from the noodle restaurant.
Dean is also working on plans for Depot Springs Beer Co., a 25,000-square-foot venue with a brewery, restaurant, distillery and entertainment space on Fletcher Parkway, which city officials said is expected to be completed before year's end.
Currently under construction on Baltimore Drive is Crossroad Apartments, a 66-unit apartment complex being built by Silvergate Development. On Parkway Drive, two commercial buildings were recently completed and now house Habit Burger Grill among other upcoming tenants.
Not far from those sites, the city's late 2016 arrivals included a new Center Street tasting room of San Pasqual Winery, in a space that formerly housed a commercial printing business; and a new single-family, nine-unit housing development on a Mohawk Street site that was occupied previously by a mobile home park.
New Community Profile
With its current population of 58,813 expected to reach 73,290 by 2040, according to city and regional figures, La Mesa is preparing to meet further demand for services and amenities, recently receiving nearly $5 million in grants to upgrade streets and sidewalks.
The city recently issued a new community profile, geared to attracting new residents and businesses, which emphasized traits including La Mesa's relatively young median age (37.5); median household income of $60,390 as of 2015; relatively affordable apartments; and median single-family resale home values still seeing considerable appreciation ($490,000 as of October 2016, up from $360,000 in October 2010, according to Zillow).
Morreale said his new La Mesa restaurant has seen a diversified mix of steady customers, ranging from young couples and families to older residents who have lived in the city for much of their lives. With co-owner Vincenzo Loverso, he opened Farmer's Table following a $2 million renovation of the space that formerly housed the popular Sanfilippo's Pizza for more than 40 years, before its owners retired last year.
A longtime resident of the nearby San Carlos neighborhood in San Diego, Morreale said he had been eyeing the up-and-coming La Mesa as a potential business location for several years. That's in part because its European-like design styles remind him of his childhood in Sicily, where villagers routinely grew and sold fresh fruits and vegetables as part of their daily lives.
He jumped at the chance to establish a presence in La Mesa, where he said the rise in new eateries and other gathering spots is helping the downtown area attract locals and visitors who will eventually spend more of their time and money in the city.
"I really don't mind having these other things opening up around here," he said. "Competition makes you better as a restaurateur."