Kodiak Capital Opens Office in La Jolla
Tuesday, April 18, 2017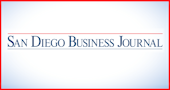 Newport Beach-based Kodiak Capital Group LLC, a fund manager for venture investments into publicly traded companies, has opened an office in San Diego, the company announced recently.
"The expansion is intended to help Kodiak more effectively meet the financing needs of additional public companies and potential acquisitions for its current public company portfolio in the burgeoning San Diego market," the company said.
Kodiak Capital was the first institutional investor in MyDx Inc., a San Diego-based company that makes a handheld chemical analyzer for consumers and last year launched a sensor chip to allow users to test fruits, vegetables, and cannabis for pesticides and heavy metals, the fund manager said.
The fund manager's San Diego office is at 1262 Prospect Street in La Jolla.