PHARMA: FDA OK IS SWEET AFTER NEAR-DEATH EXPERIENCE
Persistence Finally Pays Off at Neurocrine Biosciences
Originally published April 13, 2017 at 1:35 p.m., updated April 13, 2017 at 1:35 p.m.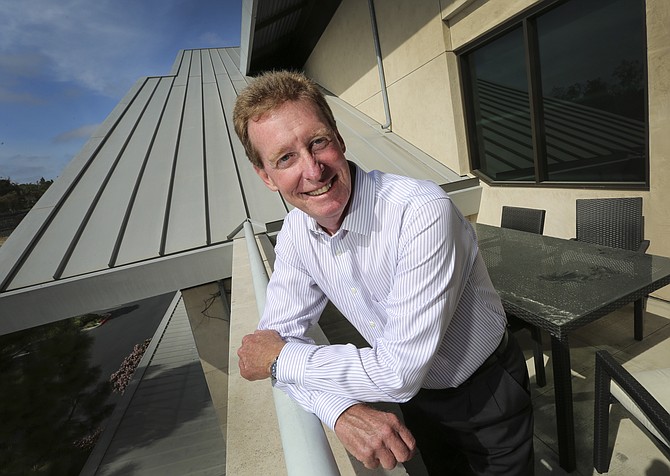 San Diego — The weekend of April 7 was a tense one at the headquarters of Neurocrine Biosciences Inc., where over 300 employees collectively held their breath awaiting word from regulators. A decade-long project was about to make or break the company.
"I'm not going to sleep until Tuesday (April 11)," CEO Kevin Gorman said in an interview the preceding Friday.
Tuesday afternoon, the news broke. The regulatory agency had approved Neurocrine's first drug to reach the market — a medicine called Ingrezza, which will treat adults with Tardive dyskinesia (TD). The condition, which until this point has been untreatable, affects the nervous system, causing uncontrollable stiff, jerky movements in the face and body (often caused by long-term use of psychiatric drugs). Neurocrine's drug is novel, meaning there's none like it on the market. It will be the first treatment available to TD patients.

$2.5 Billion Deficit
But it's also a first for Neurocrine. The company has been around since 1992, racking up a $2.5 billion deficit, but it hadn't produced a drug that reached the market until now. The closest they came was in the mid-2000s, when Neurocrine was working on a sleeping pill called Indiplon. The drugmaker had good data from clinical trials, and executives had their fingers crossed that FDA approval was right around the corner. But the FDA ultimately rejected the drug, sending Neurocrine into a financial tailspin from 2006 to 2009.
Executives watched as the company's stock fell from about $70 per share to less than $3. Neurocrine cut its staff from 600 people to 60, sold its multibuilding campus, and leased back a small portion while it struggled to press on.
The company's then-CEO Gary Lyons stepped down, and Gorman, who was previously serving as chief operating officer, took his place.
As Gorman recounted the experience now a near-decade later, he said it was the hardest thing he'd ever faced, "I promised everyone that if I ever had to do a layoff of that size again, I'd lay myself off first."
Making FDA a 'Partner'
But the FDA's rejection came with lessons, Gorman said. First: make the FDA a partner, not an adversary. To do that, Gorman said it was important that Neurocrine focused on conditions the FDA considered serious. And 10 years ago, the FDA did not consider insomnia serious.
The company recalibrated its research programs, and collapsed its R&D department from 200 people to only 22.
"Necessity was the mother of invention for us," Gorman said. The company learned to run lean, and started working on medicines that would address serious diseases with few existing treatments, like TD, Tourette's, and Parkinson's.
Neurocrine has been developing Ingrezza for the greater part of the last decade, and the FDA's approval of the drug will likely set the company on a path to profitability, Gorman said. It also gives them a competitive edge.
The company will soon have competition in the market, as Teva Pharmaceuticals will likely get approval of its own TD drug this August. Teva is a mega drug company based out of Israel, but the company got its TD product from San Diego-based Auspex Pharmaceuticals, which Teva acquired in 2015 for over $3 billion.
140-Person Sales Team
But Neurocrine is beating Teva to the punch. Ingrezza will hit the shelves within weeks, giving the San Diego company a several month head start over Teva. In preparation for Ingrezza's approval, the Neurocrine grew its staff from about 110 people in 2016 to 375 people as of this month. That includes a 140-person sales team who will be marketing the drug to psychiatrists and neurologists.
Gorman said it was important to him that Neurocrine go at commercialization alone, rather than partnering with a global pharmaceutical company.
"I've been in this business for 30 years now, and my definition of success has never changed: get into a position where you are a freestanding, independent biotech company that discovers, develops, and commercializes your own drugs," Gorman said. "That way, you don't have to depend on anyone else."
Potential Peak Sales of Over $1B
Although cautious over estimates, Gorman said he expects Ingrezza will cost anywhere from $20,000 to $60,000 for a year's treatment. Analysts have estimated that it could bring in annual peak sales of over $1 billion, making it a potential blockbuster drug.
San Diego has seen several drugmakers come and go, often disappearing following words of rejection from the FDA. But it looks like Neurocrine will be sticking around.
"We've gone through hell and back as a company," Gorman said. "But the real excitement here is that for the first time, these patients are going to be taken out of the shadows. For the first time, they're going to have something to treat their disease. And you can't imagine how cool that is."