DEFENSE | THE LATEST IN DEFENSE INDUSTRY NEWS
GA-ASI Looking for Other Markets for Predator Family
Originally published April 13, 2017 at 2:23 p.m., updated April 13, 2017 at 2:23 p.m.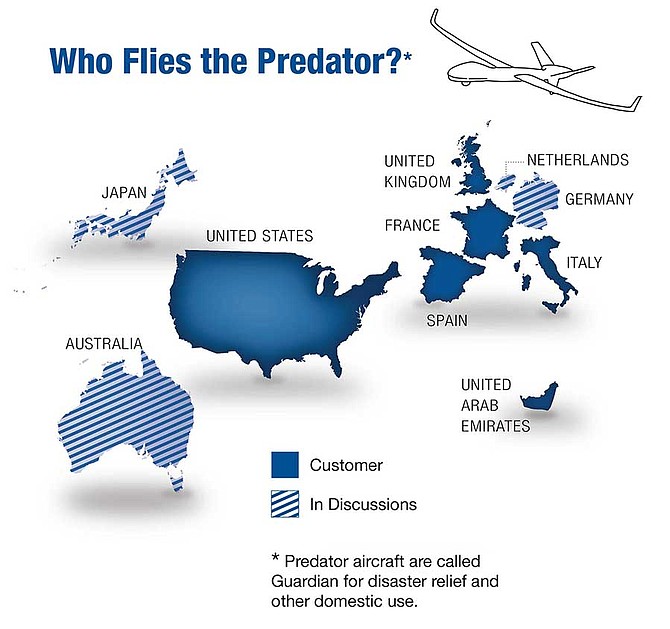 A-ASI Puts Raytheon Radar Through Paces
How does one fly an unmanned aircraft through contested air space?
General Atomics Aeronautical Systems Inc. is working on the problem. The business said one of its Predator B aircraft successfully used a Raytheon Co. (NYSE: RTN) radar warning receiver during tests at its Gray Butte flight center in the California desert, in the presence of various ground-based radars. The company plans more demonstrations later this year, and might integrate the receiver with a military data exchange network called Link 16.
"The successful demonstration of a mature radar warning receiver on our company-owned Predator B clearly shows the utility of the aircraft in conducting missions in the proximity of threat radars and enemy air defenses," said GA-ASI executive Claudio Pereida, executive vice president of Mission Systems, in a statement issued April 10. "We are pleased to be the first company to demonstrate this capability on a remotely piloted aircraft and hope to make it available to interested customers on a quick-reaction basis."
The Raytheon unit is an ALR-69A RWR.
San Diego — General Atomics Aeronautical Systems Inc. is working to widen its customer base for its Predator family of unmanned aircraft.
As of 2017, the United Kingdom, France and Italy fly Predator-family aircraft produced by the Poway company. Spain is a new customer and is acquiring four Predator B models.
A single country in the Middle East, the United Arab Emirates, flies the aircraft as well. (The UAE is on the Arabian Peninsula at the Strait of Hormuz — the navigational choke-point at the entrance to the Persian Gulf. It has a land border with Saudi Arabia and is a 50-mile boat ride from Iran.)
Left out of the customer count is Israel, which is home to a competitor. IAI, short for Israel Aerospace Industries, produces an unmanned craft called the Heron. Like the Predator, Heron is a medium altitude, long endurance, propeller-driven aircraft that can stay in the air for more than 24 hours. Predator and Heron aircraft can both carry weapons.
Of course, the U.S. Air Force, U.S. Army and U.S. intelligence services fly militarized versions of GA-ASI's Predator, while federal border patrol and scientific agencies use it for surveillance and data collection.
The company declined to be interviewed for this look at international customers. The privately held affiliate of General Atomics does not reveal revenue.
The sale of an aircraft is actually the start of an ongoing revenue collection process. GA-ASI benefits from yearly logistics contracts to support the unmanned system.
GA-ASI is on record as speaking to four other countries about its Predator family, though the situations differ. The following is taken from GA-ASI press statements and published reports.
The Poway company is making a sales push in Japan, saying in March that it will pursue research with academic and government groups. The long-term goal is to fly a GA-ASI aircraft in civil airspace, using it for disaster relief and patrolling the waters around the country. Since it would be used domestically, GA-ASI is calling the aircraft Guardian, not Predator.
In Australia, GA-ASI is participating in competition to sell the government a military version of the Predator. GA-ASI announced in late February that it has taken on Australian teammates in its bid for the business. IAI is also competing for the work, according to IHS Jane's.
The issue of whether Germany should get GA-ASI's Reaper is tied up in court. In early 2016, Germany opted to lease the Heron from IAI. Several aerospace publications reported in September that General Atomics challenged Germany's selection process in a German court.
In the Netherlands, GA-ASI is working with Fokker to sell Predator to the Dutch armed forces.
Test Establishes Fire Scout as Maritime Platform
Northrop Grumman Corp.'s Fire Scout unmanned helicopter flew in its first tests from a U.S. Navy littoral combat ship.
There are two models of Fire Scout; the recent tests involved the newer, larger version, made from a Bell model 407 helicopter. Northrop Grumman (NYSE: NOC) runs the Fire Scout program out of its Rancho Bernardo office complex.
The crew of the San Diego-based USS Montgomery recovered the unmanned helicopter 37 times over seven days, varying the operating conditions. "This test established the MQ-8C Fire Scout as a maritime platform, bringing superior endurance and payload flexibility to the fleet, bringing capability that the U.S. Navy will continue to use for many years to come," said Capt. Jeff Dodge, Fire Scout program manager, in a statement issued by the Naval Air Systems Command.
Early this month, the program passed a point that the Pentagon calls Milestone C, meaning that the program has moved from R&D into production.