DEFENSE | THE LATEST IN DEFENSE INDUSTRY NEWS
GA-ASI Looking for Other Markets for Predator Family
Originally published April 13, 2017 at 2:23 p.m., updated April 13, 2017 at 2:23 p.m.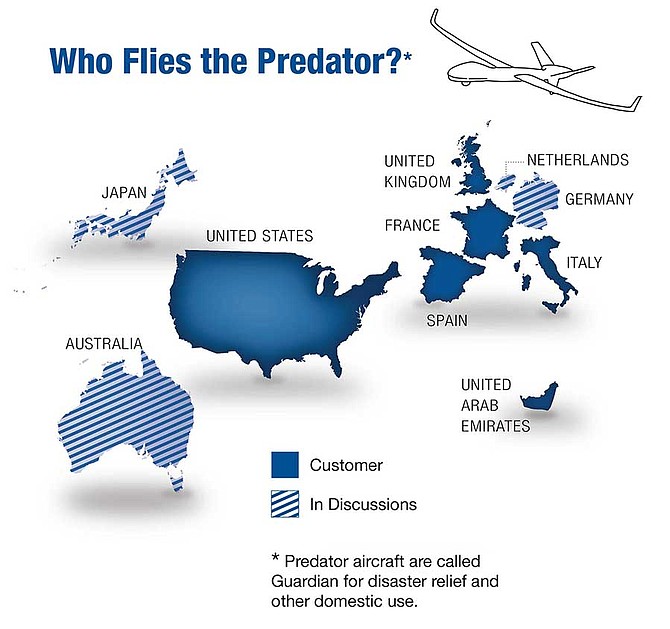 A-ASI Puts Raytheon Radar Through Paces
How does one fly an unmanned aircraft through contested air space?
General Atomics Aeronautical Systems Inc. is working on the problem. The business said one of its Predator B aircraft successfully used a Raytheon Co. (NYSE: RTN) radar warning receiver during tests at its Gray Butte flight center in the California desert, in the presence of various ground-based radars. The company plans more demonstrations later this year, and might integrate the receiver with a military data exchange network called Link 16.
"The successful demonstration of a mature radar warning receiver on our company-owned Predator B clearly shows the utility of the aircraft in conducting missions in the proximity of threat radars and enemy air defenses," said GA-ASI executive Claudio Pereida, executive vice president of Mission Systems, in a statement issued April 10. "We are pleased to be the first company to demonstrate this capability on a remotely piloted aircraft and hope to make it available to interested customers on a quick-reaction basis."
The Raytheon unit is an ALR-69A RWR.
San Diego — General Atomics Aeronautical Systems Inc...