SWINERTON SEES BRIGHT FUTURE IN MONITORING, O&M AS WELL AS CONSTRUCTION
Design, Build and Operate
Originally published April 13, 2017 at 2:28 p.m., updated April 13, 2017 at 2:28 p.m.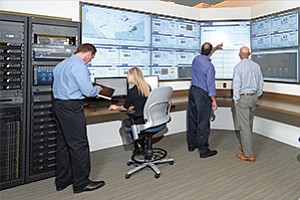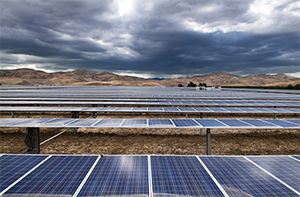 San Diego — Swinerton Builders didn't see itself operating and maintaining renewable energy plants when it entered the solar industry nine years ago. As a general contractor, it just wanted to build them.
But it sensed an opportunity when customers insisted on receiving performance guarantees, said Erik Johnson, director of engineering at the company's San Diego-focused renewables division, Swinerton Renewable Energy.
"In order for us to be able to accept that risk of an ongoing performance guarantee, we felt we really needed to control how the plants were being maintained and operated," he said.
Thus was born a business segment that has expanded so quickly in the past two years that it has outgrown a small monitoring center in Rancho Bernardo. It is about to take over a sophisticated control center where highly trained professionals will work around the clock monitoring utility-scale solar and wind power plants from the East Coast to Hawaii.
Complete with special security features and two dozen wall-mounted monitors flashing real-time data from across the country, the new center allows employees to intervene immediately — or call in reinforcements with boots on the ground — to address potential problems ranging from overgrown weeds to cyber-attacks.
The operations-and-management function, called SOLV (System Operations Live View), has become an important driver of growth in a division that has come to account for about 30 percent of San Francisco-based Swinerton's revenues since it began serving the solar industry in 2008.
For that and other reasons, such as the ability to remain technology-neutral and look after projects built by others, SOLV represents an ambitious strategic move in an industry that observers say is positioned for long-term growth.
Shining Growth
Utility-scale solar plants totaling more than 10 gigawatts of electricity were installed nationwide in 2016 — more than double 2015's total, according to a report commissioned by the trade group Solar Energy Industries Association.
Although the solar construction industry will likely slow in 2017 and 2018, the analysis by GTM Research predicted, growth will resume in 2019 and continue through at least 2022.
A separate report by GTM and SoliChamba Consulting suggests the global market for operation and management of utility-scale photovoltaic plants will exceed 501 gigawatts by 2021, a 175 percent jump from the 2016 total.
For its part, Swinerton's wholly owned SOLV unit operates and maintains solar plants with generation capacity totaling nearly 4 gigawatts. That's more than twice as much renewable power as it reported managing at the start of 2016.
Its utility-scale plant construction work is growing, too. Since 2008, it has delivered solar projects generating more than 2.5 gigawatts, or about triple the total it reported a little more than a year ago.
Looking forward, Johnson sees the company's SOLV segment growing by as much as half a gigawatt annually.
Government Incentives
Swinerton was founded as a construction firm in 1888 and since that time has taken on building projects in everything from office and retail to multifamily residential and entertainment.
The expansion into solar was spurred largely by government incentives that have propelled much of the U.S. renewable energy industry during the past several years. But as Johnson explained, its expansion into the operation and management of such projects was a separate decision originating with customer demand.
Importantly, he said, the move was non-threatening to its existing customers. Swinerton does not own renewable energy plants, nor does it promote one technology over another, he emphasized, and so companies that do feel comfortable contracting its services.
"We're a pure builder, and an O&M (operations and management) provider," he said.
Local Competitor
There is at least one other local firm providing operation and management services to the renewable energy industry. That company, San Diego-based EDF Renewable Services, is contracted to oversee a total of 13.5 gigawatts of wind, solar, bioenergy and energy storage globally, including about 10 gigawatts in North America.
Just last month, EDF unveiled a new, proprietary technology platform dubbed TRUalytics, which it said in a news release will deliver automated reports and other insights to make power plant management easier and more efficient. The company did not respond to a request for comment.
Starting in mid-May, SOLV's self-contained center, with dual-authentication door access and its own kitchen, will host three daily shifts of people monitoring factors like voltage and weather conditions. Workers will relay information among utilities, plant owners and Swinerton's own SOLV crews in the field.
All power plants the company manages are monitored at the center. For those big enough to require regulatory oversight, employees at the center will be able to switch on or off circuit breakers, perform utility directives, call in technical crews to do repairs at the plant and, if necessary, report larger problems to electrical transmission operators.
Surprise inspections of the facility will be carried out by the North American Electric Reliability Corp., or NERC. It certifies control center workers and sets and enforces industry standards.
Though it declined an interview request, NERC referred to online information indicating its standards are industry-driven and transparent to the public, and that its approach focuses on performance and risk management.
Regulatory Benefits
The new control center represents a significant investment, though just how much it cost to build, the company won't say. It may require enhancements as Swinerton takes on new O&M contracts, but Johnson said the facility itself should remain in operation longer than the smaller center located at a nearby building along West Bernardo Drive.
Regulatory requirements are part of the reason the center cost as much as it did. That's not necessarily a bad thing for Swinerton, because in a sense, the need for compliance is part of what brings the company O&M business in the first place, and the new center represents a barrier to competition.
"I think there will be a fair number of folks that try to hang some monitors on the wall and say that they're compliant," Johnson said. But, he added, "if you do it right, it's not cheap."