Neurocrine's Stock Soars Following FDA Approval of Its Drug Ingrezza
Wednesday, April 12, 2017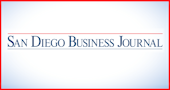 Stock is soaring for San Diego drugmaker Neurocrine Biosciences, which just received a stamp of approval from the U.S. Food and Drug Administration for its lead drug Ingrezza.
The company's stock is up 25 percent, trading for $51.80 mid-afternoon on April 12. The spike has brought Neurocrine up to a market cap of $4.6 billion, making it the second largest public drugmaker in San Diego.
Neurocrine's shareholders are responding to the approval of Ingrezza, a drug that's been in R&D for nearly 10 years. Analysts have speculated the drug could mean $1 billion plus in peak annual sales for Neurocrine, making it the first commercial opportunity that Neurocrine has had since its inception in 1992.
Ingrezza is a treatment for tardive dyskinesia (TD), nervous system disorder that causes uncontrollable stiff, jerky movements in the face and body (often caused by long-term use of psychiatric drugs). Neurocrine's drug is novel, meaning there's none like it on the market, and it will be the first treatment available to TD patients.

"For the first time, these patients are going to be taken out of the shadows," said Neurocrine's CEO Kevin Gorman. "For the first time, they're going to have something to treat their disease. And you can't imagine how cool that is."
Learn how Neurocrine's executives turned the company around from the brink of financial ruin to a multibillion company in the next edition of the San Diego Business Journal.