WD-40 Co. Reports Q2 Net Income of $12.4M
Tuesday, April 11, 2017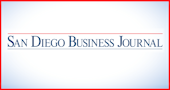 Chemical maker WD-40 Co. reported second quarter net income of $12.4 million on net sales of $96.5 million. Its second quarter ended on Feb. 28 and the business reported financial results on April 6.
One year ago, the business reported net income of $13.7 million on net sales of $94.6 million.
Sales in the Americas were down 1 percent while sales in the Asia-Pacific region increased 14 percent quarter over quarter. Sales in China grew 17 percent.
The maker of household, workshop and factory maintenance chemicals, as well as cleaning supplies, is based in San Diego's Morena district.
WD-40 (Nasdaq: WDFC) had net sales of $381 million during fiscal 2016. Company officials said they expect net sales of $390 million to $395 million when the current fiscal year comes to a close.
WD-40's board of directors declared a 49 cent quarterly dividend, payable April 28, to shareholders of record on April 14.
The business said it bought back $18.7 million of its stock over the six months ending Feb. 28. Under its stock buyback plan, the company may repurchase up to $75 million in stock by Aug. 31, 2018.