IT CAPITALIZES ON AN EXPERIENCED WORKFORCE, LEAN, U.S. MANUFACTURING
Sign Co.'s Vision Is to Make Others Look Good
Originally published April 6, 2017 at 1:03 p.m., updated April 6, 2017 at 1:03 p.m.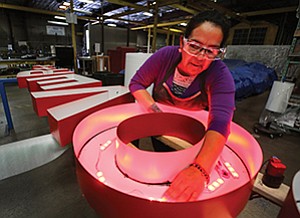 FEDERAL HEATH VISUAL COMMUNICATIONS
CEO: Kevin Stotmeister
Revenue: $178 million in 2016; $148 million in 2015
No. of local employees: 80
Investors: Sole investor is Wisconsin-based Hendricks Holding Co. Inc.
Headquarters: Oceanside
Year founded: The business traces its lineage back to 1901
Company description: Sign maker and provider of installation services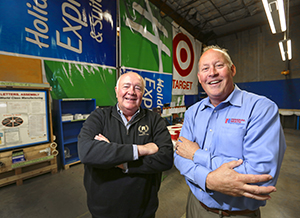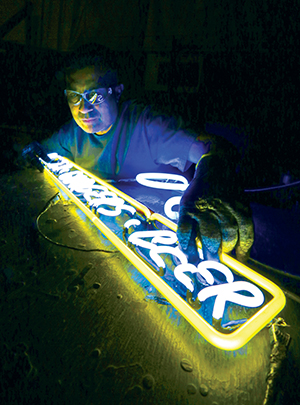 San Diego — There is an "Alice in Wonderland" quality to the Federal Heath Visual Communications factory on North Avenue in Oceanside. In this cavernous room, things are out of scale. Giant C shapes bent like macaroni pasta sit nearby; they will soon go together to form a complete circle emblem outside a Target Corp. discount store somewhere.
Federal Heath makes signs, including those that go very high on buildings or poles, meant to be seen from the freeway. The business restricts itself to clients that have 200 locations or more. They include big retailers, eateries and gas stations.
There are plenty of small sign companies around. Federal Heath is one of the larger ones with 650 full-time employees and 100 contractors.
The business had record revenue and profit for the last four years, said Kevin Stotmeister, the company's president and CEO. It had $178 million in revenue in 2016; that was preceded by a $148 million year in 2015 and a $128 million year in 2014. The CEO declined to give profit, but said that number advanced 24.2 percent between 2015 and 2016; 18 percent from 2014 to 2015; and 12 percent from 2013 to 2014.
It is also growing into digital signage as the cost of televisionlike displays comes down. Digital signage makes up 5 percent of Federal Heath's revenue but it is "the wave of the future" so the business is investing in it, Stotmeister said. Federal Heath sources said digital signage is growing at a 22 percent clip while the overall sign market is growing at 6 percent.
The global digital signage market was valued at $16.9 billion in 2015 and is expected to grow to $27.3 billion by 2022, according to Markets and Markets. Slightly less than half of the market (45 percent) is North America.
Already, Stotmeister said, digital technology is remaking the look of the Las Vegas strip.
Five Plants
Federal Heath's 42,000-square-foot Oceanside plant is one of five serving clients across the United States. The company has two factories in Texas, one in Ohio and one in Wisconsin. One big cost for the business is shipping a finished product to its final destination, Stotmeister said. When Federal Heath gets a big order, the company decides which of the five plants is best equipped to produce it.
Even with its high costs and many regulations, the company prefers to stay in California. One reason is geography. Many of the company's clients are here, Stotmeister said.
The idea of manufacturing in Baja California has occurred to top management, "but it never made any sense" because the company feels it could not replicate the quality coming out of its U.S. shop, Stotmeister said. It would take a year to merely get a maquiladora up to speed, the CEO said, and the U.S. staff has so much "tribal knowledge" about how to do their jobs. Some have multiple decades of service.
Lean Manufacturing
"They really are artisans," said Daniel Belling, the corporation's vice president of sales and marketing.
The business uses a lean manufacturing model, keeping a bare minimum of inventory on hand. Federal Heath turns over inventory a whopping 25-30 times per year, Stotmeister said. Another advantage to a California location is having material suppliers a short drive away.
During a visit to the factory in late March, a Buffalo Wild Wings emblem sign was going together on a table. A lighted decorative element (without words) for Cheesecake Factory sat nearby. Very bright light-emitting diodes illuminate the current generation of signs rather than fluorescent tubes or neon.
The business makes a large number of signs for gas stations. The Oceanside plant worked three shifts over three months to turn out 5,000 "pump toppers" for one client. As part of the lean manufacturing process, there are step-by-step instructions, illustrated with photos, posted in the Petroleum Cell — the place on the factory floor where gas stations signs are fabricated.
Some of the more unusual things Federal Heath has created include the Carlsbad street arch, and a lighted replica of an 18th century hot air balloon that adorns the roof of the Paris Las Vegas Hotel & Casino. It recently produced large signs for Tejon Ranch Co. as well as the MGM Grand/TopGolf location in Las Vegas.
Federal Heath is "great competition" and the company is reputable, said Darrol Schultze, a manager with Acme Signs Inc. in North Kansas City, Mo. Some of the older employees in his 60-person shop learned their trade when Federal Heath had a shop in the region. Schultze said there is still a market for older styles of signs, including ones that involve hand work, and that is what his company pursues. Local government has restricted digital signage, he said.
Oceanside Works Well
It's a little unusual for a national business with 116 years of history to have its headquarters in an Oceanside business park. Stotmeister said that was his decision. At this point in its corporate life, Federal Heath does not have to be in one of the larger U.S. cities. Stotmeister reasoned that only he would be "slightly inconvenienced" by being in Oceanside.
Federal Heath has been in its current building in the Ocean Ranch development for four years. Some of the tenant improvements included antique interior doors salvaged from old buildings. The company has decorated its office with photos of its products from various parts of the 20th century. One photo shows a huge, building-mounted clock, with a clock hand many times the size of a man beside it.
The company traces its lineage to the founding of Federal Electric Co. Inc. in 1901 in downtown Chicago. A lot of the company's growth has been by acquisition. Federal Heath has dozens of predecessor companies, and for a while the ownership structure was very complicated, Stotmeister said. The Federal and Heath companies came together in 2003.
Today, the corporate structure is straightforward: Federal Heath is 100 percent owned by Hendricks Holding Co. Inc., part of the portfolio owned by billionaire Diane Hendricks. She and her late husband Ken's ABC Supply Co. Inc. distributes roofing, siding and windows.
Stotmeister acknowledged that there is some good business — such as Jack in the Box, In-N-Out Burger, Rubio's — that fell to competitors.
The trick for growth, he said, is to identify the next fast-growing chain and get that business. Being on board for The Disney Store in 1990, for example, is a good place to be.