Two Local Restaurants Make Magazine's Most-Promising List
Wednesday, April 5, 2017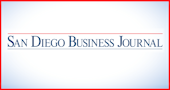 San Diego's Luna Grill and Urban Plates were among 40 U.S. restaurant companies that made industry news magazine QSR's recently published list of the most promising fast-casual dining concepts.
The magazine, which covers business and food trends related to quick-service restaurants, published an unranked "40/40 List" that includes 40 companies with under 40 locations. Listed in four tiers, the magazine identified brands that its staff thinks "stand the best shot at becoming the next big thing."
Factors that were considered included menu offerings, service, dining experience, innovation and other business practices.
Luna Grill, with 35 current locations and 18 others set to open this year, made the magazine's Tier 1, described as "the runaway trains." The company, with Mediterranean-style offerings, is led by founders Sean and Maria Pourteymour, with Sean serving as CEO.
Urban Plates, with 11 locations, made QSR's Tier 3, described as "the pieces are all there." The restaurant was founded by CEO Saad Nadhir and offers customized meals ordered from chefs and other personnel on an open food line.
North Carolina-based QSR tracks news related to the restaurant industry's fast-food and fast-casual segments. Its inaugural 40/40 list was published in the magazine's April 2017 issue.