TECH: CO.'S DATA DEXTERITY MAKES REAL TIME CONNECTIONS
Tealium Hopes to Be It in Tag Management
Originally published April 3, 2017 at 8:34 a.m., updated April 3, 2017 at 8:34 a.m.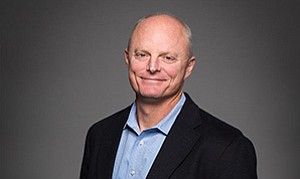 San Diego — Tealium isn't its own verb quite yet, but in an age when basic internet functions can eventually take on the name of their dominant service provider, the San Diego-based customer data platform company may have as good a shot as any of its competitors.
Nine years and at least five financing rounds after its founding, Tealium continues to grow worldwide by virtually every metric — including by adding about 50 enterprise clients per quarter to its current total of more than 750, CEO Jeff Lunsford says.
That's more impressive when viewed in a competitive context: Market observers say no single company has a clear advantage in the data-driven, online marketing niche called tag management — and none comes close to Tealium's annual revenues, according to a crowdsourced industry report.
While it's true tech giant Google has a tag management system with an outsize internet footprint, and software leader Adobe has a competing version, the more sophisticated activity of interpreting and acting on real-time intelligence on internet users remains a relatively open field.
"There's a lot of room to expand. I don't think the tag management market itself is quite saturated," said industry analyst David Raab, who called Tealium "definitely one of the leaders."
Keeping Track
Tag management really is sort of a core function, especially for companies that want to know what its website visitors are up to.
The activity takes many forms, depending on who's doing it. At Tealium, it involves bringing together disparate lines of computer code, simplifying them into a form it calls "a single source of truth," then channeling it so clients can do things like send their customers immediate, personalized electronic messages.
"It's being able to engage the customer in real time across all digital and physical touch points with contextually relevant information at that point of time," Lunsford said.
If that sounds confusing, consider the perspective of a website operator that doesn't manage the code-based user identification packets called tags. Using Google's system, the operator may receive a flood of data about who is using its site — but then what?
"The data's just dropping on the floor," Lunsford said.
Tealium harnesses data from a variety of sources, not just internet browser data but also mobile devices and machines connected to the Internet of Things. It prepares this information so it can be used to advertise directly to a shopper at the very moment that person is considering making a purchase.
Ramping Up
To make the most of its market opportunity, Lunsford said, the company has tripled its presence in Asia and the Pacific during the last two years, while also doubling staff at its European offices. It also completed a financing agreement of undisclosed size with Citi Ventures in late February, five months after it announced securing $35 million from a series of investors to fund expansion. Its total funding has been estimated at $113 million, not including this year's financing round.
The privately held company is tight-lipped about its size and strategy, disclosing little more about its place in the market other than to say no one else does things exactly like it does, and that it is not engaged in a "dire, head-to-head" competition with any single company.
Raab, the analyst and tech consultant with Philadelphia-based Raab Associates, said one thing Tealium does that its competitors are also doing is creating customer database platforms, known as CDPs. These information repositories are helpful in analytics and studying customer behavior, he said, and can cost a large company hundreds of thousands of dollars to build from scratch.
Which Way?
Because the field of tag management is still young, Raab said, there are many directions Tealium could head, including fine-tuning its analytics and messaging capabilities.
He referred to a profile on crowdsourced business research website company Owler, which estimates Tealium's annual revenue at $44 million and its employee base at 283. The second-largest competitor, by revenue, was listed as being Ensighten, a San Jose tag management company with estimated sales of $26.3 million and 81 employees. Third place went to Qubit, which Owler says has about $20.4 million in revenue and 150 employees.
With each of the major players taking a somewhat different approach to tag management, Raab said, it may take five years or more before the field shakes out.
"Buyers haven't quite decided what's the best way to go," he said. "It'll be a long time, is the short answer, before this market decides how to consolidate."
How that happens could be influenced by growing global concerns about data privacy. Some countries insist the data tag managers glean stay within their borders, while China has tight controls about access to and use of such information. Raab said Tealium will have to deal with these challenges, but no more so than its competitors.
"It's a very dynamic industry. I think (Tealium) is very well positioned," he said. "I think they have an excellent chance of doing very, very well."
Looking Forward
Though he was guarded on other topics, Lunsford did acknowledge a new product allowing customers to stream data from Tealium's platform for use in various applications. He also predicted consumers will eventually be targeted with "much more personalized" marketing and advertising campaigns.
But he denied the competition is forcing the company to scramble to come up with new approaches for serving clients and clinching the market.
"We're serving (customers) quite well. We don't need to do more stuff," he said. "The solutions we have in the market are solving a lot of customer pain, and that's going to keep us busy for a long time."
Only time will tell, but if he's right, it may become standard practice for businesses to Tealium their customers day and night.