Backers Target Hotel Tax Hike for Convention Center Expansion, Civic Needs
Monday, April 3, 2017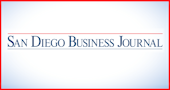 San Diego Mayor Kevin Faulconer and other business leaders have officially launched a drive aimed at raising the city's hotel tax, formally known as the transient occupancy tax, by up to 3 percent.
The mayor will ask the City Council to call a November special election on the measure, which backers said will help expand the convention center while addressing the city's chronic street repair and homelessness problems.
"We have an opportunity to move the ball forward on three major issues that are important not only to our tourism economy but to every San Diegan," said Faulconer, during a waterfront media gathering near the convention center on April 3.
Faulconer and other supporters said the proposed initiative plus anticipated new convention business would support debt service for an expansion of the current convention center, expected to cost between $630 million and $685 million while adding 400,000 square feet of rentable exhibit, ballroom and meeting space.
The city would use another portion of the TOT increase to create an annual funding stream of about $10 million for reducing homelessness, a sum that backers said would grow over time as hotel tax revenue rises with increased convention center business. The city could then issue taxable bonds against that revenue stream and generate $140 million over 10 years for homeless programs, according to supporters.
If the measure passes, the city would use another portion of the hotel tax increase to create an annual funding stream of about $10 million for street repairs. The city would eventually issue tax-exempt bonds against that stream to generate an estimated $150 million over 10 years for street repairs.
It would be up to city officials to decide the exact size of the tax increase that voters will be asked to approve, and how proceeds will be distributed. Hotel guests in the city of San Diego currently pay a 10.5 percent transient occupancy tax on their room bills, which goes to the general fund for basic city services; plus a 2 percent assessment that goes toward a local tourism marketing district.
Faulconer and other backers reiterated the need to expand the convention center to create tourism-related jobs, while attracting and retaining large events such as Comic-Con International. The city is currently negotiating with Comic-Con organizers to extend the event's stay beyond 2018.
In addition to Faulconer, the ballot proposal was supported at the gathering and in a post-event statement by City Council President Pro Tem Mark Kersey, San Diego Padres Managing Partner Peter Seidler, and leaders of the San Diego Tourism Authority, San Diego Housing Commission, Comic-Con International, San Diego Lodging Industry Association, Downtown San Diego Partnership and San Diego Regional Chamber of Commerce.
The proposal calls for the TOT hike to be configured in a tiered 3-2-1 structure, with all city hotels subject to a minimum 1 percent tax increase. Tier 2 calls for all lodging businesses south of state Route 56 and north of Route 54 to be subject to a 2 percent total minimum hike, with all hotels in the downtown area subject to a total 3 percent hike.