Financial Executives Make Successful Fundraising Drives
Originally published September 29, 2016 at 12:38 p.m., updated September 29, 2016 at 12:38 p.m.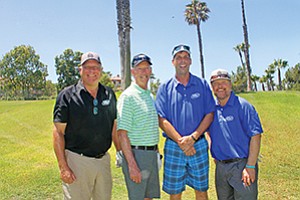 San Diego — San Diego-based USE Credit Union executives Jim Harris, Ken Kramer, Matt Adams and Josh Lawrence came in second at the
Richard Myles Johnson Foundation/CUNA Mutual Golf Tournament held recently in Newport Beach. The event raised a record $70,000 for the state foundation for credit unions in California and Nevada, which will go to help fund an interactive financial education program for students. Another foursome of Penny Sandifer from San Diego-based Pacific Marine Credit Union, Jim Plotkin of Carlsbad-based-Plotkin Group, Kate Reidel of Orange County-based Xceed Financial Credit Union, and Los Angeles area-Robert Arnett with Texas-based Catalyst Corporate Federal Credit Union came in third.
The event drew 144 players and 21 sponsors. Madison, Wis.-based CUNA Mutual served as title sponsor. USE Credit Union, along with fellow San Diego-based credit unions Cabrillo Credit Union and North Island Credit Union, also served as sponsors of the event.
Richard Myles Johnson's executive director, Tena Lozano, said the money raised will fund the Foundation's Bite of Reality, an interactive financial education program which will reach more than 11,000 teens in California and Nevada. San Diego-based California Coast Credit Union has hosted the Bite of Reality program at various schools throughout the county, including Clairemont High School.
• • •
The Boys and Girls Clubs of Greater San Diego announced that 175 people raised more than $22,000 at the Jon Jay BaseBowl event held at the East Village Tavern+Bowl. Jon Jay is a star outfielder for the San Diego Padres and a Boys & Girls Clubs alum.
"The Boys & Girls Club was a huge part of my childhood, so this organization is near and dear to my heart," Jay said. "Nikki (Jay's wife) and I are thankful for the opportunity to give back to an organization that gave so much to me."
The partners were: San Diego Padres, Robertson's Ready Mix, Frazier Farms, Geico, The Levinson Family, PenSys Inc., Replica Printing Service, San Diego PCB Inc., Scripps Ranch Old Pros, Witham, Mahoney & Abbott, Brinig Taylor Zimmer Inc., Cute Cakes, Bigr Audio, Knockaround Sunglasses, Alvarado Institute of Skin Care and Barre3 La Jolla.
• • •
The Salk Institute for Biological Studies recently celebrated 21 years of Symphony at Salk, its signature concert under the stars, with Broadway luminary Kelli O'Hara and the San Diego Symphony led by guest conductor Maestro Thomas Wilkins. More than 700 people attended the event and $1,146,000 was raised for Salk research and education outreach programs.
All proceeds raised support the institute's wide-ranging scientific inquiries that have yielded more than 50 years of life-changing discoveries. Proceeds also support Salk's award-winning educational outreach programs that have helped generations of students discover their passion for research and explore careers in science.
• • •
Each year, the Don Diego Scholarship Foundation's Vocational Education scholarships offers $44,000 in scholarships to 14 outstanding San Diego County high school seniors who have participated in the San Diego County Fair and/or other activities associated with the Del Mar Fairgrounds. The scholarship covers most of the costs of attending a community college for two years. The Don Diego Scholarship Foundation was named for Don Diego, also known as Tom Hernandez, who served as the fair's welcoming goodwill ambassador from 1947-1984.
Don Diego's Executive Director Chana Mannen encourages students to apply for future vocational education and four-year college scholarships to begin the process of researching and fulfilling eligibility now so they will be qualified to apply in their senior year. Since its inception in 1986, the foundation has awarded approximately $797,000 in scholarships to 177 students in agriculture education grants. Visit dondiegoscholarship.org and facebook.com/DonDiegoScholarship.
• • •
St. Paul's Senior Services and Love Uniting Volunteers reports that the 2016 LUV Gala Oceans of LUV held recently reached nearly $260,000 in net proceeds. The funds will support St. Paul's Plaza and its Reflections memory care program. More than 385 people attended, the largest turnout in its history. The event was chaired by Cheryl Cox, former mayor of Chula Vista, and Honorary Chair Katherine Stuart Faulconer, first lady of San Diego. The planning team was Joyce Frye, Marcia Thaxton and Kathryn Bunch in recognition of their longtime leadership of LUV.
Send Kudos/Giving items to sglidden@sdbj.com.