Franz Och Leaves Human Longevity for Illumina's Grail
Tuesday, September 27, 2016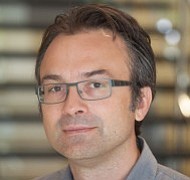 Franz Och, a former Google executive recruited in 2014 by J. Craig Venter's Human Longevity, has left the firm for an opportunity with Illumina-backed Grail.
Och, a computer scientist best known for his role as chief architect of Google Translate, was hired by Human Longevity in June 2014 as chief data scientist. But Och has apparently left Human Longevity to join San Francisco-based Grail, the cancer screening company co-founded by San Diego medtech giant Illumina.
Reporter Luke Timmerman broke the story on Timmerman Report when he noted that Och's LinkedIn profile reflected a new role as head of data science at Grail.
Human Longevity spokesperson Heather Kowalski confirmed with the San Diego Business Journal that Och has left the company
Och will join another top ex-Google executive, Jeffrey Huber, who leads Grail as CEO.