Fortis Therapeutics Raises $18 Million in Series A Round
Tuesday, September 27, 2016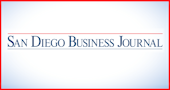 San Diego life science upstart Fortis Therapeutics Inc. has closed an $18 million Series A round led by local venture capital firm Avalon Ventures.
Investors Bregua Corporation, Lilly Asia Ventures, Osage University Partners, and Vivo Capital joined the round.
Fortis was founded on technology from Bin Liu, a professor at UC San Francisco. The company is focused on developing new antibody drug conjugate therapies for late-stage metastatic castrate-resistance prostate cancer and multiple myeloma.
"Dr. Liu has identified a novel and unique target for an antibody drug conjugate therapy that could help patients with prostate cancer or multiple myeloma where other treatments have failed," said Jay Lichter, president and CEO of Fortis and managing director of Avalon Ventures, in a statement.
Fortis also has recruited a prominent prostate cancer researcher, Eric Small of UCSF, to the company's scientific advisory board.
Fortis will be located at COI Pharmaceuticals, Avalon Venture's biotech incubator.