General Atomics Contracts With Lockheed Martin
Monday, September 26, 2016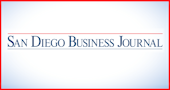 General Atomics' Electromagnetic Systems unit said it received a contract to provide battery systems to defense giant Lockheed Martin, which is building dry combat submersibles for the U.S. Special Operations Command.
Financial terms of the deal were not disclosed. San Diego-based General Atomics announced the contract on Sept. 22.
The battery propels the submersible and runs other systems. In April, the military successfully tested the battery system at sea on a special operations command undersea vehicle, during a demonstration run. Lockheed Martin designers envision the submersibles delivering SEALs to their destination underwater.
General Atomics Electromagnetic Systems calls its battery LiFT, short for lithium ion fault tolerant. LiFT's single cell fault tolerance prevents uncontrolled and catastrophic cascading cell failure, GA said in a statement. This not only ensures the safety of people on board, but ensures systems continue to operate through faults to let SEALs complete their mission.
GA added that it hopes to apply a similar battery system to ground vehicles, aircraft and other defense platforms.
General Atomics is privately held and based in La Jolla.