Scripps Set to Open Barbey Family Emergency and Trauma Center on Sept. 26
Sunday, September 25, 2016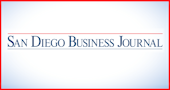 Scripps Health unveiled a $33 million, 33,000-square-foot emergency and trauma center set to open Sept. 26 on the first floor of the Prebys Cardiovascular Institute on the campus of Scripps Memorial Hospital La Jolla.
With 51 private beds, four ambulance bays and four trauma bays that expand to eight in the event of a disaster, the Barbey Family Emergency and Trauma Center is six times larger than the space it replaces in the original hospital building at the campus.
"With (patient) volumes expected to increase over the coming years, our expanded capacity ensures that Scripps will be able to meet the growing demands for emergency and trauma services," Dr. Martin Griglak, medical director and chairman of the hospital's Department of Emergency Medicine, said in a news release.
The center's name was prompted by a donation from the Barbey family. A separate gift from the David Whitmire Hearst Jr. Foundation prompted the naming of the center's trauma area after former Scripps chief medical officer and trauma surgeon, Dr. Brent Eastman.
Inside the facility is a mobile fluoroscan X-ray device that creates detailed images of bones and joints. Overhead imaging machines can take X-rays of two patients at once. There is also a low-dose CT scanner, a 1.5-tesla MRI, an ultrasound unit and two diagnostic X-ray imaging suites, as well as a transesophageal echocardiography machine that allows doctors to view a patient's heart valves and chambers even as clinicians perform CPR on the person.
Each patient room features a continuous vital signs monitor, a bedside clinical staff computer, a rolling bed that measures weight for dosage purposes, seating for visitors and a flat-screen TV that can be used to display medical images.
Scripps Health is a nonprofit health-care system based in San Diego. It has more than 15,000 employees spread across its five acute-care hospitals, hospice and home-health-care services, 28 outpatient centers and clinics.