Tealium Raises $35 Million to Fund Global Expansion, Innovation
Thursday, September 22, 2016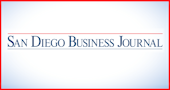 San Diego-based Tealium Inc. said on Sept. 21 that it received an additional $35 million in venture capital.
The information technology business — which describes its specialty as real-time customer data solutions and enterprise tag management — said it plans to use the new funds for global expansion and product innovation. Tealium's leaders said they hoped to accelerate product integration with mobile, Internet of Things and offline sources.
Bain Capital, Battery Ventures, Georgian Partners, Presidio Ventures and Tenaya Capital contributed to previous funding rounds. All contributed to the latest round.
Tealium does not disclose revenue. The business said it is growing in excess of 60 percent and is "building momentum across all verticals and geographies." It counts more than 700 enterprise customers worldwide. Tealium said it has quadrupled its employee base over the last three years, notably in engineering, customer support and partner ecosystem development.
Jeff Lunsford is CEO of Tealium, which has offices on Torrey Pines Mesa, near the UC San Diego campus. The company said it is expanding its headquarters with what it calls an executive briefing center.