Carlsbad Locations Likely Next on Brewery Igniter's Itinerary
Originally published September 22, 2016 at 4:07 p.m., updated September 22, 2016 at 4:07 p.m.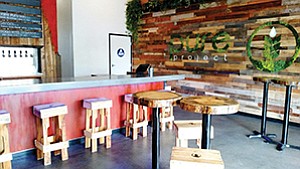 San Diego — North County has no shortage of craft beer companies; about a third of San Diego County's 120-and-counting brewing sites are located there. But the area could soon get a new incubator-of-sorts for up-and-coming brewers.
On Sept. 21, the Carlsbad Planning Commission approved a proposal by San Diego's H.G. Fenton Co. for what would be the developer's third Brewery Igniter in the local region, following earlier versions established in Miramar and North Park. While not an incubator in the traditional sense, Fenton's idea is to provide tenants with shared equipment, building upgrades and other elements that help minimize the capital costs usually facing a startup brewer.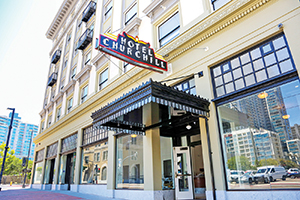 The Brewery Igniter concept is sort of like having early-stage brewers in a friendly apartment-roommate situation, where they can share certain costs they otherwise might have been pressed to come up with without a much longer startup runway or major influx of outside investment.
Documents filed with the city of Carlsbad indicate that Fenton is looking to establish two separate brewery tasting rooms in two separate and adjacent industrial and warehousing suites at Carlsbad Corporate Center. The site is at 5840 El Camino Real, Suites 100 and 101, near Palomar Airport Road, and the developer is seeking a conditional use permit.
The local industry brew-news publication West Coaster recently reported that Suite 101 is expected to be occupied by Rouleur Brewing Co., led by local engineer and homebrewer Rawley Macias and likely on track for a March 2017 public debut.
The Carlsbad version of Brewery Igniter is located in a neighborhood that already has about a half-dozen young and new craft brewers near McClellan-Palomar Airport. The site is also close to where the city's granddaddy of craft beer — Pizza Port Brewing Co., which has been making beer since 1992 — has major distribution and production facilities in Bressi Ranch.
Fenton's Miramar Igniter greeted microbrewers Pure Project and Amplified Ale Works as its first tenants earlier this year, and it is preparing to bring in its debut brewers at a similar space in North Park by year's end.
• • •
Local Self-Storage Space in Short Supply: If you are dealing with San Diego's recent apartment-rental inflation by finding new digs, there's a chance you're also making use of self-storage facilities to keep some of your stuff in safekeeping during the transition. According to a recent national report by commercial brokerage firm CBRE Group Inc. that storage space is filling up fast in several U.S. cities, including San Diego.
The CBRE report, intended as a guide for potential investors and developers in the specialty area of self-storage space, notes that San Diego is among the five most under-supplied metro markets for self-storage space, with 6.22 square feet available per person.
The nation's most under-supplied metro market is New York City, at 3.52 square feet per person, with the top five under-supplied list rounded out by San Jose (4.46), Los Angeles (4.72) and Baltimore (4.90).
Oklahoma City is the most over-supplied market, at 10.12 square feet per person, with the top five over-supplied markets also including Memphis, Columbus, Kansas City and Salt Lake City. Of a total of 38 metro markets analyzed, 16 were found to be undersupplied, 11 were at equilibrium, and 11 were oversupplied.
CBRE researchers note that market supply is impacted by factors including zoning regulations and the pace of delivery of new construction, and demand is affected by population growth and demographic variables such as household income. In most cities, the trade area for self-storage units is relatively small, with most of the storage businesses located within a three-mile radius.
• • •
Shhhh… Amazon Opens San Diego Bookstore: With zero advertising or fanfare, and no grand opening celebrations announced as of press time, e-commerce giant Amazon Inc. recently opened Amazon Books, its new brick-and-mortar retail store at Westfield UTC mall in University Towne Center.
Amazon has recently been extending its food delivery services in the local market, to compete with a host of companies now bringing grocery and restaurant items directly to customers' homes and workplaces. But it has not announced plans for additional San Diego versions of its old-school retail stores, where customers can check out its Kindles and other tech gadgets along with actual books.
After bringing about the extinction of mall players such as Borders Group, along with countless mom-and-pop bookstores nationwide, Amazon is now slowly building up its shopping center presence as part of an apparent multichannel sales strategy. The San Diego store is just its second in the U.S., after an earlier opening in its home base of Seattle, and the next store is slated to open soon in Portland, Oregon.
• • •
Old Hotel is New Home for Veterans: Downtown San Diego's historic Hotel Churchill building recently reopened as an affordable-housing complex for veterans and other homeless residents, following a $20.6 million makeover spearheaded by the San Diego Housing Commission.
Commission officials said the renovated building, originally completed in 1914 at 827 C St., will provide Veterans Administration health care services to 56 veterans who reside there, and on-site support services to 16 non-veteran residents.
The renovation was first announced in 2014 and was completed with funds from federal, state, local and private foundation sources. It included a refurbishing of the building's 2,000-pound, 1940s-era Hotel Churchill neon rooftop sign, along with its original transom and single-pane windows and its six Juliet-style balconies.
Send commercial real estate and development news of general local interest to Lou Hirsh via email at lhirsh@sdbj.com. He can be reached at 858-277-8904.