SPORT: GROUP WILL USE MONEY, MARKETING AND EVENTS TO DRAW FANS
Bowl Game Association Realizes It's Time for New Game Plan
Originally published September 22, 2016 at 4 p.m., updated September 22, 2016 at 4 p.m.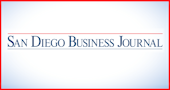 San Diego — The RedCoats aren't just coming, they're going to knock on your door harder than ever this year.
Members of the 100-strong San Diego Bowl Game Association Committee, known for their dazzling blazers, face a task that's arguably harder than any they've faced: sell out the Holiday Bowl and the Poinsettia Bowl in the new and daunting era of the College Football Playoff series.
Why so daunting? Because in 2014, college football started selecting a champion in a four-team playoff. Some say that makes the nation's 41 bowl games — including San Diego's Holiday and Poinsettia bowls — somewhat less relevant.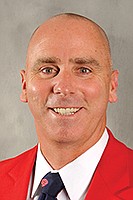 "The landscape has changed," said Del Lewis, a local investor and self-described "venturepreneur" who chairs the association's Bowl Experience Committee.
Whether San Diego's two college bowl games have become any less prestigious as a result is up for debate.The important thing for the association is that they remain fun and well-attended.

Fielding a Marketing Entity
To those ends, the group is doing a number of things differently this year. It has organized game-day celebrations intended to lend new excitement to the bowl games, introduced fundraisers to raise awareness of the events and — in perhaps the most radically different move — turned itself into more of a marketing entity.
In all its 38-year history, Executive Director Mark Neville said, the association has never spent a dime on marketing. It has tended to leave that to the goodwill of local media and the tireless efforts of its more than 300 volunteers.
The argument can be made they've done a fine job of it. As many as 65,000 people at a time have attended the Holiday Bowl in years past, and the game's economic impact alone has grown from $597,000 in 1978 to as much as $4.7 million in 2009. Attendance in 2014 was pegged at 55,789, with the associated economic impact valued at $30.3 million, while corresponding 2014 figures for the Poinsettia Bowl were 33,077 attendees and $5 million.
"We haven't had to worry about marketing because of our success," said Neville, a University of California, San Diego grad who started as an intern with the bowl association in 1991 and has more or less grown up with the two games.
Selling San Diego
In hopes of filling Qualcomm Stadium Dec. 21 for the Poinsettia Bowl, and again six days later for the Holiday Bowl, the association is looking to spend somewhere north of $100,000 — low six figures for both games combined, Neville said — on social media. No money has been or will be spent hiring marketing staff, he said.
Much of the money will be aimed at fans of the four participating college teams whose identities are yet to be determined. Neville said the pitch will involve promoting local beaches, palm trees and weather as ideal vacation material — "and, by the way, your team is coming to San Diego, the best city in the country."
"We're going to sell it as a bucket-list trip," he said.
Locals aren't getting off easy. The association hopes to target the drive-in markets of San Diego, Orange and Los Angeles counties, as well as the Inland Empire, also using primarily social and other digital media.
Adding Value
Supplementing the marketing efforts will be new game-day events Neville said "add value to the game ticket."
Before the Holiday Bowl there will be a craft-beer, food-truck extravaganza with other activities such as field-goal kicking, and in the hours before the Poinsettia Bowl, a Winterfest with artificial snow for sledding and a petting zoo. The latter will come with a family package offer: four tickets, four hot dogs and four sodas for $160.
To this add a series of local community fundraisers designed in part to keep the bowl games' visibility high throughout the year. There's a three-on-three basketball tournament, a hole-in-one golf competition and a sporting gear drive benefiting local YMCAs and after-school programs. These events are tied to the bowl games and can include discounted tickets.
Acting the part
Neville emphasized the changes add up to something entirely new to the association, which must continue to rely on what he considers its core strength —volunteers —while it adjusts to the need for professional outreach.
"We're becoming a marketing organization, so we have to start operating like one," he said.
Lewis, the Bowl Experience Committee chairman, said he's comfortable with the changes and with the association's new marketing capabilities.
Not that the organization hasn't done great work up until now, he said.
"We already believe we give a stellar bowl experience," he said, "but there may be other things we can do."