San Diego Hotels Post 3.7 Percent Revenue Rise in First 8 Months
Wednesday, September 21, 2016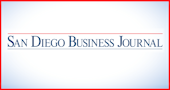 San Diego County hotels saw total revenue rise 3.7 percent from a year ago in the first eight months of 2016, topping $1.86 billion, even as occupancy dipped 0.3 percent to 79 percent, according to the latest monthly data from research firm STR.
Most of the major performance metrics showed year-over-year increases for the January-to-August period, with the average daily rate rising 2.5 percent to $159.28 and revenue per available room (RevPAR) increasing 2.2 percent to $125.83.
Also for the eight-month period, local room supply rose 1.4 percent, to more than 14.8 million, and room nights booked rose 1.2 percent, topping 11.7 million.
For the month of August alone, STR reported increases from a year ago in all of the local metrics. Total revenue was more than $267.7 million (up 4.9 percent), occupancy was 83.3 percent (up 0.4 percent), the average daily rate was $168.86 (up 2.7 percent), RevPAR was $140.61 (up 3.1 percent), supply topped 1.9 million rooms (up 1.8 percent) and demand was more than 1.5 million rooms (up 2.2 percent).
San Diego figures topped U.S. numbers for most metrics in the January-to-August period. Nationwide occupancy declined 0.2 percent for the period, to 66.9 percent, with the average daily rate at $124.18 (up 3.1 percent) and RevPAR at $83.10 (up 2.9 percent).
U.S. hotel revenue was up 3.8 percent for the month of August, at more than $13.8 billion; and up 4.5 percent year-to-date, at more than $101.4 billion.