San Diego Architecture Firms AVRP, Skyport Studio Merge
Wednesday, September 21, 2016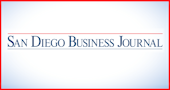 San Diego architecture and design firms AVRP Studios and Skyport Studio announced that they have merged, with the combined company now called AVRP Skyport Studios.
Financial terms of the arrangement were not disclosed. A statement from AVRP Skyport Studios said the combined firm will be operating from offices at 703 16th St. in San Diego's East Village.
Officials said the merger was formalized recently after the two firms teamed to work on Seaport San Diego, the proposed $1.2 billion mixed-use redevelopment of downtown's Central Embarcadero, being spearheaded by a local development team known as Protea Waterfront Development.
AVRP Studios was founded in 1976 by architect Douglas Austin, who has led the company with President Christopher Veum. Skyport Studio was founded five years ago and is led by Frank Wolden, a former principal with Carrier Johnson + Culture.
Those company leaders are joined by Randy Robbins, who joined AVRP in 1983, as principals in the new firm. Officials said the combined company will have a total of 40 employees.