Pentagon Awards GA-ASI Two Contracts Worth a Total of $42.6 Million
Monday, September 19, 2016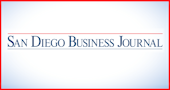 The U.S. Army awarded General Atomics Aeronautical Systems Inc. a $25.3 million contract modification to acquire four Gray Eagle war replacement aircraft and four satellite data terminals. The expected completion date is December 2017.
Gray Eagle is the Army version of GA Aeronautical Systems' Predator aircraft.
The Army obligated fiscal 2014 funds at the time of the award.
Separately, the Army awarded GA-ASI a $17.3 million contract modification for software work, and test and evaluation. Work is expected be completed by August 2017. Fiscal 2017 funds were obligated. Congress has yet to approve a fiscal 2017 budget, and approval is not expected until after the November election.
Work on both deals will be done in Poway.
The Army Contracting Command of Redstone Arsenal, Ala. awarded the contracts, announced on Sept. 16 and Sept. 9, respectively.