Execs From Cybersecurity Firm iboss Attend White House Summit
Wednesday, September 14, 2016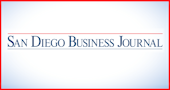 Two executives from iboss Inc., Richard Quinones and Stephen Clemons, went to Washington to take part in the White House Summit on Computer Science for All.
The event, held Sept. 14 at the Eisenhower Executive Office Building, explored the topic of computer science in K-12 education.
Computer science is a "new basic" skill necessary for economic opportunity and social mobility, the White House said in a statement.
Iboss, based in San Diego's University Towne Center area, specializes in cybersecurity.
Quinones is vice president of SLED business development at iboss. The abbreviation refers to state, local and education markets.
Clemons is vice president of public sector markets.
"Iboss is committed to expanding computer science curriculum across the nation's K-12 schools, to include a focus on careers in the cybersecurity industry," company co-founders Peter and Paul Martini said in a memo to President Obama. "That is why we support the Computer Science for All initiative and are proud to join with those corporations who are contributing to this worthy effort.
"We will take action to produce a National Cybersecurity Education Portal (NCEP) in collaboration with organizations like the College Board and higher education institutions. NCEP will create an engaging environment in support of classroom activities with dynamic teaching components and hands-on learning and career exploration, focused on a career in the cybersecurity industry. Beyond serving as a classroom resource, NCEP will be available online for all students to access, anytime and everywhere in support of self-directed growth."
The president's forthcoming budget includes $4 billion in funding for states and $100 million directly for school districts to expand K-12 computer science education. Money will go toward training teachers, expanding access to high-quality instructional materials and building effective regional partnerships.