Startup MedCrypt Raises $750,000 in Seed Funding
Tuesday, September 13, 2016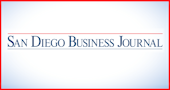 Encinitas-based MedCrypt, a company that offers cybersecurity technology for medical devices, has raised $750,000 in seed funding.
Leading the round was Safeguard Scientifics, a publicly traded company from Pennsylvania. Several angel investors joined the round, the firms said in a Sept. 13 announcement.
MedCrypt plans to use the funds to conduct pilot projects with leading medical device vendors.
"The increased use of, and dependency on, connected devices at hospitals and health systems has revealed security risks and vulnerabilities, consequently putting patient safety at risk," said Mike Kijewski, co-founder and CEO of MedCrypt, in a prepared statement. "While it's distressing to think about a hacker remotely disabling a medical device, it's far more unnerving to consider a hacker silently taking over a device and sending it malicious instructions, resulting in a patient's injury or worse, death.
"MedCrypt's software allows manufacturers to authenticate users, encrypt data and cryptographically sign settings and patient prescriptions. MedCrypt also has the ability to monitor transactions between clinicians and devices for malicious behavior, protecting struggling health networks from unforeseen cyber threats. Our technology is designed to ensure that only instructions from a trusted source are executed by the medical device."
Based near Philadelphia, Safeguard Scientifics (NYSE: SFE) invests capital and relevant experience in technology-driven businesses. In addition to the healthcare market, Safeguard works in financial services and digital media.
MedCrypt's angel investors include members of the Wharton Alumni Angel Network, which is affiliated with the University of Pennsylvania's business school.