Miranda Toledano Chosen to Lead Corporate Development at Sorrento Therapeutics
Tuesday, September 13, 2016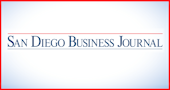 San Diego's Sorrento Therapeutics Inc., a public biopharmaceutical firm, has appointed Miranda Toledano as executive vice president of corporate development of Sorrento and president of LA Cell, Sorrento's joint venture with City of Hope.
"Miranda brings a unique combination of fundamental knowledge and transactional experience in our key therapeutic areas which will be instrumental in crafting Sorrento's corporate strategy and accelerating our goals for LA Cell," said Henry Ji, president and CEO of Sorrento, in a statement.
Toledano joins Sorrento from investment banking firm MLV & Co., now a FBR Capital Markets company, where she completed over 110 IPO and follow-own equity offerings totaling $4 billion in value, according to a Sorrento news release.
Before MLV, Toledano worked at an investment group of Royalty Pharma where she focused on acquiring drugs for oncology, auto-immune and neurodegenerative indications.
Sorrento Therapeutics has been keeping busy this year with new developments. The company completed a $150 million round of financing in June, and has launched a string of joint ventures with global biotech and pharmaceutical companies.
The company's stock (Nasdaq: SRNE) was trading for $6.79 at market close on Tuesday, up 14 percent since the start of the third quarter.