Floor Scrubber Is Shining Example of Robotics on the Job
Originally published September 12, 2016 at 3:04 p.m., updated September 13, 2016 at 3:04 p.m.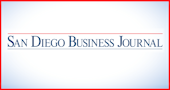 San Diego — Cleanup on aisle one zero one zero zero. Mira Mesa-based Brain Corp. has released a video of Emma, a robotic floor scrubber, at work at the Carlsbad location of grocer Jimbo's Naturally.
Michigan-based International Cleaning Equipment supplied the core floor-scrubbing machine. Brain Corp. supplied the module that lets the machine operate autonomously. The machine can reportedly learn as it cleans. It also won't cut corners or bump into shelves, according to Brain Corp. The company plans to charge a fixed monthly fee for autonomous service and support.
Separately, Brain Corp. lost some talent, but he's not going far. Todd Hylton is joining the Contextual Robotics Institute at the University of California, San Diego as executive director. The institute is a joint project of the engineering and social sciences departments. Before he was executive vice president for strategy and research at Brain Corp., Hylton was a program manager at DARPA, the Pentagon's research and development arm. One of his Defense Department projects was to build a chip based on the brain's neural architecture. Hylton received his doctorate in physics from Stanford University and has received 19 patents. In his new post, he'll serve as a professor of practice in the Department of Electrical and Computer Engineering at the Jacobs School of Engineering.
In a statement distributed by the university, Hylton makes mention of his old job. He said that Brain Corp. is hoping to offer its floor scrubber for use in big-box retailers and warehouses.
"We discovered that applications like these are exciting, pragmatic business and technical opportunities," he said. There may also be opportunities in moving goods and monitoring inventories.
Brain Corp. has 35 employees. Qualcomm Ventures is one of the company's financial backers. Eugene Izhikevich is Brain Corp.'s chairman and CEO. Izhikevich, who holds a doctorate in pure mathematics, was previously a senior fellow in theoretical neurobiology at The Neurosciences Institute in San Diego.
• • •
Patents Proliferate: Miramar-based Peregrine Semiconductor said that it expects to have more than 300 issued and pending patents by the end of 2016. Right now, the fabless semiconductor maker holds more than 280 issued and pending patents in the United States and abroad. That number is up by 50 percent from two years ago, when Japan-based Murata Manufacturing Co. Ltd. bought Peregrine for $471 million.
Most of Peregrine's patents "have a large number of claims, which is indicative of the inventions' scope," said Dan Nobbe, the company's vice president of corporate research and intellectual property development, in a statement distributed by Peregrine.
Employment at Peregrine is up 40 percent since the ownership change; companywide, the total head count is 475 people. As of early September, the business had 15 San Diego jobs posted on its job board, mostly in engineering. It was also looking for an intern to write software for automated test systems.
Apparently, the company was serious about needing that third building that it moved into this time last year.
Peregrine's specialty is radio frequency silicon-on-insulator microchips. It has shipped about 3.5 billion of the chips since 1988.
• • •
North Sound Builds Novatel Stake: Connecticut-based North Sound Management Inc. bought 3.2 million shares of Novatel Wireless Inc. stock for $7.7 million between April and August. The buyer had to file Schedule 13D, which is required of buyers who acquire more than 5 percent of shares. North Sound had 5.9 percent, according to its Aug. 15 filing.
Under the direction of CEO Sue Swenson, Novatel Wireless (Nasdaq: MIFI) is trying to pivot from a hardware business (with a focus on the consumer space) to a services business with recurring revenue. The company has not had a profitable year since 2009. Its last good year was 2007.
Separately, the company announced Aug. 30 that it going to market with a business-to-business product it calls Ignite. The bundled connectivity solution is meant for retail businesses who want to use internet-connected point-of-sale terminals, digital signage, kiosks, vending machines and ATMs. T-Mobile (Nasdaq: TMUS) is the wireless carrier powering the service. Retailers worldwide will increase their machine-to-machine connections fivefold between now and 2022, Novatel Wireless said, citing data from Grand View Research.
• • •
Calming the Jitters: The DVEO Division of Computer Modules Inc. planned to roll out its Jitter Box appliance during the International Broadcasting Convention Sept. 9-13 in Amsterdam. Rancho Bernardo-based DVEO makes electronics for telco TV and over the top internet TV providers. The business has 14 employees. In the most low-tech way of speaking, the new rack-mounted device alleviates jitter — a common problem leading to poor-quality video. A more tekky explanation: Many internet protocol transport streams are asynchronous, which makes them prone to jitter if they are sent to program clock reference (PCR) compliant devices. The DVEO device corrects the problem.
The suggested retail price for the appliance is $1,895. Also on display will be its packet-recovery enabled H.264 encoder and decoder.
Speakers at the Amsterdam conference will include filmmaker Ang Lee, who has created some buzz by shooting his latest work, "Billy Lynn's Long Halftime Walk," at 120 frames per second — faster than the normal frame rate at the movies. The Iraq war story comes to theaters in November.
Send San Diego technology news to bradg@sdbj.com.