Two S.D. Businesses Provide Components for Osiris-Rex Spacecraft
Sunday, September 11, 2016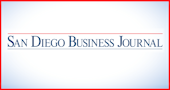 Two small San Diego businesses, Malin Space Science Systems and Vanguard Space Technologies Inc., provided components to the Osiris-Rex spacecraft launched Sept. 8 from Florida's Cape Canaveral Air Force Station.
Privately held Malin provided three specialized cameras, including electronics and software, for the Osiris-Rex craft under a $3 million deal. Vanguard built a high-gain antenna reflector as well as a sunshade for the spacecraft's thermal emission spectrometer. Vanguard did not announce financial terms of its deals. Enlightenment Capital sold Vanguard to Albuquerque, N.M.-based SolAero Technologies Corp. earlier this year.
Both Malin and Vanguard are in the Miramar area.
Osiris-Rex is expected to rendezvous with an asteroid named Bennu in 2018 and — if all goes according to plan — perform a "high five" maneuver with its robot arm, which will collect 2 ounces of rock and dust. It is scheduled return to Earth with its sample in 2023.