PROPERTY: UPDATE TO COMMUNITY PLAN BRINGS CLASH OF INTERESTS
Developers Seek Exemption for High-Rise Housing in Hillcrest
Originally published September 8, 2016 at 4:32 p.m., updated September 8, 2016 at 4:32 p.m.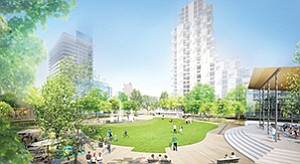 San Diego — San Diego city planners by year's end are aiming to resolve long-disputed issues relating to the future of commercial and residential development in the popular Hillcrest neighborhood.
Hillcrest is at the core of San Diego's Uptown planning district, one of several areas of the city that are undergoing updates to community plans that have not been formally refreshed for nearly three decades.
The San Diego Planning Commission on Oct. 6 is slated to review a proposed update of the Uptown plan — currently nearing completion of environmental impact studies — that would raise the height limit for new Hillcrest projects from the current 65 feet to up to 120 feet under certain conditions. Planners' decision will then be reviewed by the San Diego City Council.
Revised development standards in other parts of Uptown — including the adjacent Bankers Hill, Mission Hills and Middletown — have generally been settled. Hillcrest, however, remains a sticking point, with vocal residents and preservationists at odds with developers over how to proceed with long-overdue revitalization.
Central Location
Situated northwest of Balboa Park, the popular Hillcrest neighborhood is increasingly coveted by residents and businesses for its proximity to hospitals, freeways and pedestrian-friendly access to a high concentration of stores and restaurants. The neighborhood consists largely of older one- and two-story commercial buildings, often with office or residential elements located over ground-floor retail.
Hillcrest residents and preservationists are especially protective of the community's role in the city's history and culture, particularly as a longtime hub for San Diego's lesbian, gay, bisexual and transsexual community.
Developers contend that the neighborhood is languishing amid debates over what can eventually replace aging buildings. They argue that portions of Hillcrest need to accommodate taller and denser projects, to help address issues including the city's chronic housing shortage.
To that end, a 14-member coalition of Hillcrest property owners will be asking the Planning Commission to consider a zoning exception to the proposed new height standard. Calling themselves the Uptown Gateway Council, the coalition is seeking to carve out an area of approximately 11 acres for a central plaza or park-oriented gathering space where adjacent residential towers could be as tall as 25 stories — approximately 200 to 250 feet high.
Dealing With Uncertainty
The area targeted by the group is where Sixth Avenue meets Robinson Street. The group's members include Gary Pernicano, whose family owns a few Hillcrest properties including the former Pernicano's restaurant building, which has sat vacant and deteriorating for more than 30 years on Sixth Avenue.
During the past two years, the Pernicano family has been in discussions with various potential buyers of the restaurant property. While no formal plans have been unveiled, several sources have indicated that developers are envisioning a project that could include hotel and retail elements.
Coalition member Nick Totah, who owns commercial properties on Fourth Avenue near University Avenue, said lingering uncertainty over what can be built in Hillcrest has caused corresponding hesitancy among developers to take on new projects along the lines of a redevelopment of the Pernicano's site, despite the location's high desirability.
That limbo extends to properties where developers could be adding needed apartment units, but otherwise don't know if they can make their projects pencil out financially.
"Developers are just not going to invest if they don't know what the property can be used for," said Totah, who is also a senior associate with the commercial brokerage firm Marcus & Millichap.
The Trade Off
Elizabeth Robinson, asset manager for San Diego-based The Greenwald Co., led by coalition member Bennet Greenwald, said the group is optimistic that city planners will see the benefit of trading a limited amount of high-density development for new housing and green spaces.
Concept renderings released by the coalition show a park area adjacent to two high-rise residential towers. Robinson said such a configuration would include on-site parking for residents — so as not to exacerbate Hillcrest's existing parking shortages — and that traffic congestion could also be minimized in a neighborhood where most residents are fine with walking to most places.
Apartments built in larger configurations, Robinson said, make it more feasible for developers to build units in an array of sizes and price points, which otherwise would not be feasible within a smaller development.
The coalition's proposal will be a tough sell among residents in Hillcrest, where many vehemently resist a return to the 200-foot standard established in the 1988 Uptown community plan. The city in 2008 placed a moratorium on Hillcrest projects taller than 65 feet, after controversy arose over a developer's plan to build a 12-story condo tower at Third and University avenues, rising nearly 150 feet high.
Some Hillcrest residents are now seeking ways to have portions of the neighborhood declared historic and off-limits to new development. The latest Uptown plan update, to be considered by the Planning Commission, would retain the existing 65-foot height limit for Hillcrest, but extend that limit to 120 feet under certain conditions.
Go East
In its own recommendation to planners, still being finalized at press time, the city's advisory Uptown community planning group has called for the 120-foot allowance to be applied not in the core of Hillcrest, the area the developers are targeting, but primarily to eastern areas where the neighborhood borders the next-door North Park.
Uptown planning group Chair Leo Wilson noted that North Park has long been preparing to accept more high-density, transit-friendly development, and the eastern corridors of Hillcrest would be more compatible than the neighborhood's central core for that type of project.
Regardless of where the 120-foot limit is applied, Wilson said the height limit would still be lower than that of Bankers Hill, where projects in some spots have ranged up to 150 feet high and will continue to do so under the proposed Uptown update.
Wilson said the long-term planning process could face further complications from ongoing historic preservation efforts in Hillcrest, as well as the city's climate action plan, which might require future projects to undergo additional environmental impact reviews.
Impact Report
Generally, he's confident that city planners and the City Council will find a way to mesh developers' needs for project certainty with Hillcrest's specific cultural and residential priorities. "It's just my opinion, but I think the city has done a pretty good job of addressing all of these various issues," said Wilson, a resident of Bankers Hill.
Arian Collins, spokesman for the city of San Diego, said city staff is in the process of preparing responses to public comments recently gathered on a draft environmental impact report on the Uptown plan update, including elements specific to Hillcrest. The impact report is expected to be finalized by the end of September.
The proposed Uptown community plan update is scheduled to go before the Planning Commission on Oct. 6, City Council's Smart Growth and Land Use Committee on Oct. 19, and is anticipated to come before the full City Council for adoption before year's end.
"During the hearing process, the decision makers can consider testimony related to the Uptown Gateway Council's proposal," Collins said.