Survey of CFOs Finds Majority Plan to Fill Vacancies
Wednesday, September 7, 2016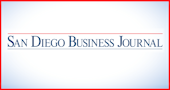 Fifteen percent of chief financial officers in San Diego who responded to a recent employment survey said they plan to hire full-time, professional-level workers for new roles in the next six months.
That's according to the results of the San Diego Professional Employment Forecast, recently released by staffing firm Robert Half.
The results also revealed that 68 percent of the CFOs who responded plan to fill open roles at their companies between this month and February.
Compared to a survey by Robert Half conducted earlier this year, which asked local CFOs about their intentions for the March through August time period, the responses to the latest survey showed that interest by local CFOs in hiring for new jobs had fallen, but plans to fill vacant positions had increased.
"San Diego companies continue to be optimistic about their firm's growth, driving demand for top talent," said Brett Good, senior district president for Robert Half, in a statement. "As a result, hiring managers must keep up with the most current pay rates so their compensation remains competitive. In addition, the top may be fielding multiple job offers, so it's critical to tender your own offer as soon as you make a hiring decision."
More than half of the San Diego CFOs surveyed said it is somewhat or very challenging to find the skilled candidates for whom they are searching. Fifty-six percent of CFOs who responded noted those recruiting challenges; in the survey about the previous six months, 57 percent said that was the case.
Thirty-six percent of executives said maintaining employee morale and productivity is also a challenge when it comes to employment.
The survey conducted earlier this year about CFOs' intentions for the six-month stretch starting in March found that 19 percent of respondents planned to add new positions and 65 percent planned to fill vacant roles.
Results come from interviews with 200 CFOs of local companies with at least 20 employees, according to Robert Half.
The most recent survey results also showed an uptick in the number of CFOs planning to freeze hiring in the next six months, up to 16 percent from 14 percent.
One percent of the respondents said they planned to cut jobs in the next six months; that was the same as in the survey about the prior half year. One percent of respondents said they didn't know or were unsure, also the same as in the previous survey results.
Overall, according to the forecast, CFOs are optimistic about their company's growth: 89 percent said they are somewhat or very confident about their company's prospects in the next six months. That is up one point from the previous six months, according to the survey results.