Leadership Changes Announced at Three Life Science Cos.
Tuesday, September 6, 2016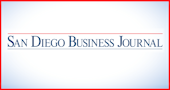 Three San Diego life science companies made leadership changes over the holiday weekend.
Cidara Therapeutics
Cidara Therapeutics, a local company developing anti-infective medications, announced that its chief medical officer, Dr. Dirk Thye, is leaving the company for a new gig in San Francisco. Thye will serve as CEO of the non-competing biotech, according to a Cidara news release.
Thye is being replaced by Dr. Taylor Sandison, Cidara's vice president of clinical development.
Sandison has been with Cidara since late 2015. Prior to joining the company, he served as senior medical director at Cubist Pharmaceuticals Inc., and senior medical director at Merck. Sandison has also held positions at Trius Therapeutics and Novartis Diagnostics, the release said.
OncoSec
Local anti-cancer firm OncoSec also announced changes to leadership, with the appointment of Sharron Gargosky to the position of chief clinical and regulatory officer.
Gargosky was previously a consultant of OncoSec's, serving as head of clinical development and operations. She is joining OncoSec's management team to oversee clinical research and define the company's clinical business strategy, according to an OncoSec news release.
Zavante Therapeutics
Zavante Therapeutics, a local biotech startup launched last fall, appointed Dr. Stephen Newman to its board of directors.
"His executive-level hospital system experience and medical background are an excellent fit for Zavante as we continue the development of ZTI-01, a first in class I.V. antibiotic for use in the hospital setting," said Ted Schroeder, chief executive officer of Zavante, in a statement.
Newman currently serves on many boards, and is chairman of CentraForce, a health care data analytics company. He's also chairman of the JDRF Research Committee, a charitable organization to help fund research for type 1 diabetes.
Newman has previously served on the boards of Optimer Pharmaceuticals, Cadence Pharmaceuticals, and Hansen Medical.