TECH: DIGITAL MARKETING CO. SEES AND TAPS POTENTIAL OF VARIETY OF PLATFORMS
Knowing Buyers' Journeys Is Key to Mapping Sales Strategies
Originally published October 27, 2016 at 9:08 a.m., updated October 27, 2016 at 9:08 a.m.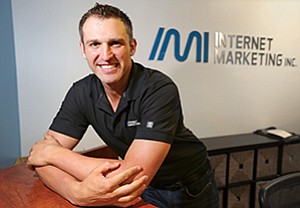 San Diego — To succeed at digital marketing, Internet-based companies are under pressure to have business practices that evolve at the same rapid pace as computer technology.
"It changes on a monthly basis," said Brandon Fishman, CEO of San Diego-based Internet Marketing Inc. (IMI). "It is really important that we stay on top of things."
To keep clients and attract new businesses, digital marketers must consistently produce results, he said.
"It really is about optimizing," Fishman said. "We have to make sure we are generating high-quality leads that end up converting into sales."
Describing itself as one of the fastest-growing, full-service digital marketing companies in the country, IMI manages a variety of digital tools for its clients, including search engine optimization, pay-per-click online advertising, social media, web management, and web design.
The company, which was founded in 2007, specializes in planning digital strategies for brands. It went from $17.83 million in 2013 gross revenues to $31.27 million in 2015, Fishman said. The firm has about 70 employees in its San Diego office and an additional 20 in Las Vegas.
The CEO said the company is on target to go global within the next five years.
A Lot of Casino Work
The firm has adopted a services-based business model that requires building long-term relationships. To succeed, it depends on recurring revenue from existing clients who pay monthly fees to have their digital advertising managed.
"We started the Las Vegas office in 2009," Fishman said. "We work with a lot of the casinos out there. We've done work for several of the properties in downtown Las Vegas."
The company also works for casinos in San Diego area, he said. Casinos are "a large niche in the hospitality/travel space."
The digital marketer's clientele is diverse. IMI has done a great deal of work with health care companies. Among its largest clients are National University, Positec, and MasterCard.
Proper Attribution
To make sure its clients are getting their money's worth, the marketer tracks buyer behavior. The goal is to improve advertising strategies by better understanding the things that lead buyers to make purchases.
"We use a multi-attribution technology," Fishman said. "We look at every source that can send traffic to our clients' websites and analyze their effectiveness."
For example, if you're planning a trip to a Las Vegas hotel, you may end up visiting multiple websites before booking a room, he said.
"Our technology can look at every marketing source that took you to the client's website and give proper attributive credit.
We holistically look at what is working best in the marketing plan."
Big Screen
Greg Haines, senior manager for digital marketing at Watkins Wellness in Vista, began working with Fishman's company just over a year ago. Watkins Wellness manufactures hot tubs/spas and aquatic fitness products.
Haines says Fishman's company has provided strategic insights that give Watkins a competitive advantage.
"We've been very pleased with their performance," Haines said. "We've seen a reduction in our cost per lead with our flagship brand, HotSpring. They have been attentive, detail-oriented, and have really rolled up their sleeves."
IMI has a strong presence on social media. Fishman said he has found that Facebook has become especially good at placing advertising before likely buyers.
"A lot of the money spent right now is on Facebook ads, because they have such strong targeting," he said. "We do ads across all different mobile apps and websites, as well."
He noted that the digital marketing business is moving from computers to mobile devices. Fishman said the shift began when Apple began making large-screen smartphones that appealed to middle-aged users because they offer greater screen visibility.
Most Clients Are Larger Companies
In addition to its stable of established clients, IMI also works with startups that have the potential for success.
"Most of our clients, 85 percent to 90 percent, are larger companies," Fishman said. "Every once in a while we will take on a startup. If they are a well-funded startup, we will take a look."
Fishman said his company values teamwork. Geoff Gross, CEO of Medical Guardian LLC in Philadelphia said he appreciates the collaborative approach IMI takes toward marketing. His company makes medical alert systems
"We started working with them in 2010," Gross said. "All agencies understand digital well. IMI understands a collaborative relationship. They are great communicators. We have weekly calls that let us know what is going on."
Gross said IMI has developed a corporate culture that considers the needs of employees as well as its clients.
"I would describe it as an organizational culture," Gross said. "They take good care of their employees."
Fishman said one day he may consider selling his company, but that time is perhaps six or seven years away. Even if he did allow another company to acquire IMI, he likely would stay on to oversee it.
"It definitely is my baby," he said.
Internet Marketing Inc.
CEO: Brandon Fishman
Revenue: Business increased from $17.83 million in gross revenues in 2013 to $31.27 million in 2015, according to the company.
No. of local employees: 70
Investors: Undisclosed
What makes the company innovative: Uses multi-attribution technology to determine how consumers arrive at online buying decisions.