In this Case, SaaS Could Stand for 'Software as a Stylist'
Originally published October 27, 2016 at 9:40 a.m., updated October 27, 2016 at 9:40 a.m.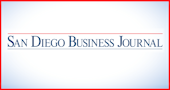 San Diego — Who knew that hair dye could be at the heart of a disruptive technology business?
It is the central product for CLiCS, one of the six businesses that presented to an audience of a few hundred people as part of EvoNexus' fall demo day Oct. 20.
CLiCS — which has been incubating at EvoNexus' location near University Towne Center — has developed a hair-color formulation and dispensing platform for professional hair salons. The business bills its product as the first computer-controlled, internet-connected, SaaS-operated solution for the retail salon environment. (SaaS means software as a service.)
CLiCS software will help a stylist choose a color for a client, factoring in the client's unique hair type; then its system will mix the color, using technology similar to a hardware-store paint mixer. The system also remembers the formula for next time.
CLiCS claims it can save salons thousands of dollars annually. Hair color is typically over-dispensed with 20 percent to 40 percent waste, the business said. CEO Charles Brown said CLiCS is good for the environment, as its system doesn't produce excess hair-color solution that winds up in the trash. Brown told his listeners that CLiCS has the ability to eliminate up to 5 million pounds of hair color from the waste stream.
The CLiCS system might well have the potential to disrupt the current, three-tier distribution system the hair salon industry uses.
"In my 20 years in the business, few things come along that are this impactful," said Ryan Goldman when he introduced Brown. Goldman is owner of Empire Beauty Supply, a family-owned San Diego business which has signed on as a distribution partner. CLiCS has 22 beta customers.
CLiCS joined the EvoNexus incubator in May. Brown told his audience that his business wants to raise $1 million in Series A bridge funds.
EvoNexus held its Demo Day presentation at Irwin Jacobs Qualcomm Hall at Qualcomm Inc. headquarters.
• • •
Water Pigeon Inc. was the audience favorite for the evening. The business, which is seeking $500,000, claims that it can quickly adapt old-fashioned water meters for automated reading. It turns an analog residential meter into a smart meter by putting a special cover on the water meter pit near a home. There is no need to build out a private wireless network.
The new, drop-in water meter lid solves the problem by reading the meter optically, and then transmitting information to the utility via a 4G LTE wireless connection.
Water Pigeon plans to be a business-to-business enterprise, selling its smart lids to water utilities and getting recurring revenue, co-founder Sarp Sekeroglu told the crowd. The business' initial target market will be Sun Belt states, estimated to have 36 million water meters.
One advantage of automated water metering is that it offers utilities — not to mention residents — nearly real-time data on water use. Normally, residents see a time lag of several months before they get their water consumption data.
Also offering demo day presentations were Trials.ai, BluAgent , Guru and Approved. Trials.ai uses artificial intelligence to speed clinical trials for drug candidates. "Our bot does all the boring things humans don't want to do," said CEO Kim Walpole. BluAgent offers a SaaS solution for the trucking industry.
Guru makes a smartphone app that helps people explore museums and other cultural institutions … and offers valuable data to museum operators in return. Approved's software streamlines the home loan application process.
The Irvine Co. provides offices and dry labs for EvoNexus member companies. Businesses do not have to surrender equity to be part of the EvoNexus program.
• • •
Virtual Reality for the Ears: Ossic, the San Diego company that developed virtual-reality headphones that give the illusion of sound coming from a particular direction, recently won a Best of What's New award from Popular Science magazine, in the entertainment category.
On Sept. 30, the San Diego company wrapped up a six-month stint in the Abbey Road Red music tech incubator in London (yes, Beatles fans, it is related to Abbey Road Studios). Ossic was one of three companies that were part of the studios' inaugural incubator class. It is also a graduate of the EvoNexus incubator program.
You'll remember that Ossic raised $2.7 million during its Kickstarter campaign that ended in April. The company plans to deliver its product in the late spring of 2017. The manufacturer's suggested retail price for the Ossic model X headphones is $500.
Ossic CEO Jason Riggs took the stage at the EvoNexus demo day to describe how his technology works. Ossic technology adapts itself to each individual who wears the company's headphones, measuring the listener's ear shape and head size (there are sensors in the headphones) and feeding that into an algorithm that customizes how the sound is presented to the listener.
What's more, Ossic's headphones have four drivers, in slightly different positions, in the left ear … and four more in the right … to play the sound.
All of these work together to create the illusion of sound coming from various directions.
The company now has 17 employees.
• • •
A Space Odyssey: EvoNexus has two incubator spaces in San Diego. CEO Rory Moore said that the organization will soon leave its current office space in the University Towne Center neighborhood for 18,000 square feet nearby — which the Irvine Co. custom built for its use.
Send San Diego technology news to bradg@sdbj.com.