UC San Diego Receives $1.4 Million, Cyber-Focused Federal Grant
Wednesday, October 26, 2016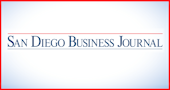 The local University of California campus received a $1.4 million award from the U.S. Department of Homeland Security to explore the global internet and push the frontiers of cybersecurity research.
Under the award, UC San Diego will develop new capabilities to let cybersecurity researchers better measure the internet's vulnerabilities to cyberattacks.
The federal agency's Science and Technology Directorate announced the award.
UC San Diego's Center for Applied Internet Data Analysis will receive the funding and put it to use in a project called Archipelago — described as a secure platform that supports large-scale active measurement studies of the global internet. UC San Diego plans to make Archipelago larger and more capable with the funds.
"The internet has grown organically and there are many things yet to be discovered," said Ann Cox, program manager for the federal agency. "The knowledge developed in this project will enable better defenses for critical infrastructure that is tied to the internet."
The project is part of the federal department's Internet Measurement and Attack Modeling project, or IMAM. In addition to network mapping and measurement, and the modeling of internet attacks, IMAM works to develop resilient systems.
According to the government, the IMAM project is aligned with federal strategic initiatives to develop realistic experimental data that emulates external adversary activities and defensive behavior. It also pursues a goal to develop new tools and techniques for mapping several layers of the internet to detect and mitigate malicious behavior.