BIOTECH: HURDLES INCLUDE MANUFACTURING, GAINING WIDE ACCEPTANCE
Revolve Microscope Appears to Be Ready for Starring Role
Originally published October 20, 2016 at 3:47 p.m., updated October 20, 2016 at 3:47 p.m.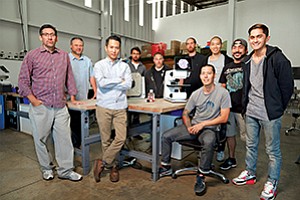 San Diego — An accountant once told me that fast-growing startups mistakenly "build Taj Mahals" for their company headquarters, sinking all their money into beautiful buildings when they should be sinking it into their technology.
Echo Laboratories Inc. has done the opposite. The company, founded in 2014, is tucked into the back corner of a seasonal holiday store on a not-so-glamorous street in the Morena District.
The office is essentially a warehouse, with big open rafters and a garagelike feel. Computers are lined up on long tables, and the corner of the cavernous room is sectioned off for manufacturing. Amidst a clutter of tools and metal parts, two guys meticulously piece together a complex scientific instrument: a microscope called Revolve.
"We make it ourselves," said Eugene Cho, founder and CEO of Echo. "It was too expensive to outsource."
The microscope is Echo's product — a stunning piece of equipment that's so sleek and modern that it borders on futuristic.
A Star Is Born?
In fact, makers of the new sci-fi film "Alien: Covenant" requested one of Echo's microscopes to use on set.
"We think your microscope looks like a microscope of the future," they reportedly said.
Of course, Echo agreed.
What's so futuristic about the Revolve microscope? It combines two of the most commonly used microscopes (the upright and the inverted) into one instrument. Priced competitively to both existing instruments, the Revolve allows scientists a more budget-friendly option by buying one hybrid microscope instead of two.
Echo also incorporated an iPad into the microscope, and a high-end digital camera.
"Microscopes are rarely standalone pieces of equipment," said James Evans, founder and CEO of PhenoVista Biosciences LLC, and a customer of Echo's. "They normally come attached to a desktop computer so you can upload your images and send them where they need to go."
Using the Revolve, Evans said his lab manager can be snapping photos from the microscope, and uploading them directly to Dropbox through the iPad.
The 37-year-old Cho said the company chose to integrate an iPad for several reasons.
"We wanted to take advantage of an interface that was familiar," Cho said. "We also wanted to leverage the touch feature. Being able to pinch and zoom is much easier and more powerful than traditional tools."
Big-Name Buyers
Several prestigious customers have already leapt on board, buying the Revolve for their labs. The client list is exhaustingly long, but it includes venerable institutions like Stanford University, Yale University, Pfizer Inc., 23andMe Inc., The 3M Co., and the National Institutes of Health.
The company has earned $1.8 million in revenue in the first nine months of the product's launch, and Cho said he expects that number to climb to $5 million next year.
Stage Presence
The Revolve microscope just won Echo Laboratories a $25,000 check from a pitch competition put on by Tech Coast Angels earlier this month. They took first place for presenting a complex technology in only two minutes to a panel of judges and an audience of hundreds.
Local life science legend Magda Marquet was a judge for the competition, and gave Cho a perfect score for his presentation.
Marquet is founder and co-chairman of Althea Technologies (now Ajinomoto Althea Inc.), and is quite familiar with the instrumentation businesses.
"Scientific presentations can be very difficult to put together, and I thought Eugene presented it eloquently," Marquet said. "It's important to be able to articulate your product quickly and simply."
But Marquet said she did have concerns about Echo's road ahead.
"Sometimes when you have early success, it can be misleading," Marquet said. "The early adopters buy up the product right away, but the market can be quite different."
Marquet said scientists, as a general rule, have a tendency to shy away from new and unfamiliar technology in a development setting.
"Scientists are conservative that way," Marquet said. Evans agreed that scientists, particularly in biology, are "typically wary of new technology."
"Biology scientists innovate on the discovery side of things," Evans said. "They take risks on the science, but not so much with tools. They want to use standard tools."
A Tough Business
Marquet also noted that the instrumentation business is a tough.
"It takes a lot of money to put together a microscope, and you need to have inventory," Marquet said. "When customers call, you don't want to tell them they have to wait three months for a product. (Echo) will need to execute perfectly."
Evans said he believes Echo's technology can shoulder the challenge.
"Anyone who does a side-by-side comparison of the Revolve and a standard microscope will see the difference in quality," Evans said. "The Revolve is better. In the end, you can't argue with results."