GIVING: PLATFORM HELPS COS. DIRECT DONATIONS TO THE DESIRED CAUSES, LOCALES
It's Better to Both Give and Receive on DonationMatch
Originally published October 20, 2016 at 4:17 p.m., updated October 20, 2016 at 4:17 p.m.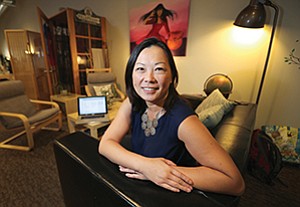 San Diego — An airline wants to give away a travel package to benefit a local charity.
A fundraising group is holding its annual gala and looking for companies to contribute to its silent auction.
How do they meet?
Why, online, of course.
Carmel Valley resident Renee Zau, who has been on both sides of the fundraising equation, has developed a website called DonationMatch that links businesses with products or services they would like to donate — and get in front of potential customers — with groups seeking in-kind offerings.
It's a solution she said has been years in the making.
The Demand
As a Curves gym franchisee, she was on the receiving end of requests from nonprofit, such as local schools.
People would email from a range of organizations, unsure of whether what the gym was interested in offering in in-kind donations was what the organization needed or wanted.
As a charity volunteer with organizations such as Dress For Success, which provides low-income women with professional attire, and her children's schools, Zau spent countless hours tracking down in-kind donations, such as items for fundraising auctions.

She recently tallied the number of events she's helped out with or led in the last 15 years at more than 60.
Launched in 2010
When she transitioned from helping out at local schools to giving her time to bigger organizations, such as the American Heart Association and the San Diego Zoo, she was startled to see that coordinating the procurement of products and services for fundraising didn't get any easier.
"I thought the items would just roll in, but that was not the case," she said. "It was just as much work."
She saw the labor-intensive process for both businesses and nonprofit was a turnoff for philanthropic companies and volunteers alike.
"No one had a good solution," she said.
To fix that problem, Zau, CEO, and co-founder Darryl Rettig launched DonationMatch.com in 2010.
The Profiles
The website streamlines the process, allowing companies and fundraisers to set up profiles explaining what they have to offer or what they need and simplifying the process of reaching out to those that are a good fit.
Although some companies now have their own platforms through which requests can be made, Zau said they aren't particularly effective because it is easier for a volunteer to print, say, 300 request letters and mail them than to fill out 300 distinct online forms.
"The more companies try to improve their own processes, the harder it's made the process for the organizations," she said.
The tricky part — matching businesses and nonprofits appropriately — is handled automatically on DonationMatch, she said.
A company that wants to give away a travel package, for example, and would like it be part of an event with a certain number of attendees, a certain ticket price or a specific location, can set those parameters.
Additional functionality comes with a premium subscription to the site, which is DonationMatch's source of revenue. It's free to use for nonprofits.
Lessons in Leadership
Although the site launched in 2010, it was in beta mode until Zau began noticing that people from outside of those she knew through her volunteer activities were beginning to sign up.
"When we started seeing people all over country … even though we weren't really trying to get found yet, we realized the demand was there," she said.
Seeking help in scaling the company, Zau in 2013 went through the Startup Leadership Program, a training program for entrepreneurs, and the Founder Institute, a similar course.
Late in 2014, DonationMatch launched a sister site, SamplingforGood, tailored to the consumer packaged goods industry. That matches companies that want to hand out products in person to organizations interested in that kind of relationship.
This year, she went through San Diego-based business accelerator Hera Labs' Scale Intensive program.
By September, the site had facilitated more than $15 million in donations.
Pawlanthrophy
Among them were products from San Diego company The Honest Kitchen,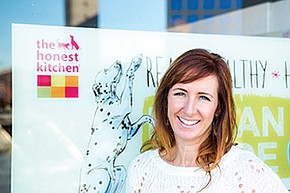 founded by Lucy Postins in 2002.
From the start, The Honest Kitchen, which specializes in human-grade dehydrated pet food, has had a charitable arm, Pawlanthrophy, said Postins, CEO.
Through that vehicle, the business selects a new animal-focused charity each month and donates money and Honest Kitchen products.
Postins said she always wanted to ensure the company gave back, but as it grew, it became difficult to track all the requests for support.
"It became cumbersome," she said. "We were getting literally dozens of requests a week."
Previously, those requests would flood in via email.
Seeking Seed Money
The Honest Kitchen donates to rescue organizations in disaster areas as well as local groups, such as the La Jolla-based nonprofit Las Patronas, for fundraisers such as charity auctions, Postins said.
Now a note on The Honest Kitchen website directs anyone inquiring about donations to DonationMatch.
"As we've grown, we've had to adjust the way we organize it," Postins said. "DonationMatch has been a really good solution and a way for charities to acquire a donation and to give us info on what it would be used for."
So far, DonationMatch has been bootstrapped, but Zau said the company is now looking for $500,000 in seed money to further scale the platform. "We've done a lot with very little, but we've just barely scratched the surface," she said.
DONATIONMATCH INC.
CEO: Renee Zau
Founded: 2010
Headquarters: Sorrento Valley
Description: Online platform simplifies corporate philanthropy by linking businesses that want to give back with nonprofits looking for in-kind donations