Sirenas, Calibr to Collaborate on Drug Discovery and Development
Tuesday, October 18, 2016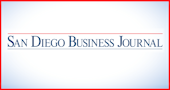 Biotech upstart Sirenas LLC is collaborating with the California Institute for Biomedical Research (Calibr) to discover and develop drugs.
The two will work in the areas of oncology, neuroscience, regenerative medicine, and neglected diseases, according to a Sirenas news release.
Sirenas will provide its marine-derived chemical library to Calibr, and access to its proprietary software called Atlantis, which leverages machine learning and data-mining to search thousands of marine molecules for drug potential.
Calibr will then evaluate the compounds with a series of experiments and pre-clinical disease models.
"Sirenas has combined the rich chemical diversity found in marine organisms with enabling analytics and informatics to create a powerful platform that we believe could be valuable in targeting some of the most intractable disease phenotypes," said Pete Schultz, president and CEO of Calibr. "We are delighted to pair the tools and expertise we have developed at Calibr with Sirenas' technology to tackle unmet public health needs."
Financial terms of the collaboration were not disclosed, but Sirenas and Calibr said they plan to co-develop promising leads through preclinical and early clinical studies.