American Wave Machines to Equip Australian Venue
Tuesday, October 18, 2016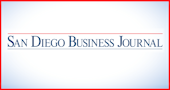 Solana Beach-based American Wave Machines Inc. has landed a contract to equip an indoor surf venue in Australia with its SurfStream wave machine.
The all-season indoor venue, called Aloha Surf, will host surf exhibitions, contests, training, camps, and corporate events. The center will also be home to surf shops, a yoga studio, fitness gym, and a themed bar and restaurant.
Aloha Surf will feature American Wave Machine's SurfStream, which has programmable controls and modular inserts that allow multiple wave types in one machine. For experienced surfers, the machine can produce a 6-foot barrel with a 20-foot face to carve on. The system also has training and intermediate waves so that the wave size can progress along with the surfer's skill.
"This is the first of a series of our small footprint indoor surf venues opening in Australia in the coming months, and adding to our growing worldwide, commercial out-of-ocean surfing network," said Bruce McFarland, president and founder of American Wave Machines, in a statement.
The center will open in Joondalup, Western Australia, in 2017.