S.D. Venture Group Sets Deadline for Pitchfest Applications
Monday, October 17, 2016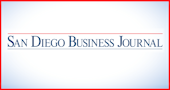 Southern California startups have until 5 p.m. Friday to apply for San Diego Venture Group's PitchFest.
Only companies that have raised less than $2 million in capital and/or $3 million in grant funding are eligible to apply. San Diego-based startups will get preference, the Venture Group said.
Applications will be judged on the companies' business plan, innovation, investor appeal and accomplishments, according to the Venture Group.
The semi-finalists, to be selected by local entrepreneurs, venture capitalists and investors, will get the opportunity to present to a panel of VCs.
That panel will determine which startups from the group of semi-finalists will get to present at PitchFest on Dec. 13.
Finalists at the event will compete to be named the top startup by the audience, which is expected to top 400 attendees, the Venture Group said.
Companies including Portfolium and Companion Medical have won previous PitchFest events.
To apply, visit sdvg.org/pitchfest2016.