Coffee Shop, Deli to Open at Lane Field Mixed-Use Development
Sunday, October 16, 2016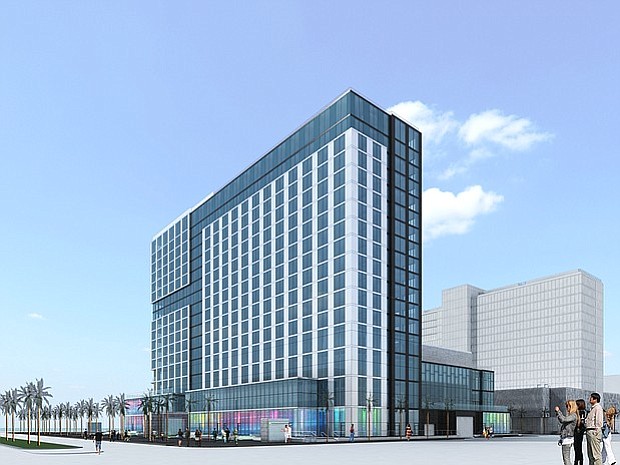 Developers have announced the first retail tenants at the mixed-use hotel development on the former site of Lane Field in downtown San Diego, as construction progresses on the second phase of the project now known as BRIC, to include an InterContinental Hotel.
A statement from Lankford Phelps Portman said Beach Hut Deli and Ryan Bros. Coffee will occupy a shared 2,690-square-foot space within the dual-branded hotel complex that opened earlier this year in the project's first phase. The restaurant and coffee shop are expected to open by year's end, on the ground floor of the property at Broadway and Pacific Highway that houses a 147-room Residence Inn and a 253-room SpringHill Suites by Marriott.
Beach Hut Deli will offer outdoor patio seating and serve sandwiches, craft beer and wine. Ryan Bros. Coffee will serve micro-roasted coffees and an international selection of teas.
Developers said excavation was recently completed for a new 18-story, 400-room InterContinental Hotel that will anchor the second phase of BRIC. The project's name includes the first two letters of Broadway and the last two letters of Pacific.
Construction on the InterContinental Hotel began in June, and it is expected to open in fall 2018. The hotel will sit atop ground-level retail space, to be occupied by a variety of yet-unnamed tenants including stores, restaurants, fitness and other types of businesses.
Lankford Phelps Portman is a development team that includes Lankford & Associates, Hensel Phelps and Portman Holdings. BRIC is expected to total more than $340 million in development once the second phase is completed.