TECH: MACHINES AUTONOMOUSLY TAKE ON FLOOR SCRUBBING JOB
AI Allows Robots to Make Clean Break From Controller
Originally published October 13, 2016 at 3:42 p.m., updated October 13, 2016 at 3:42 p.m.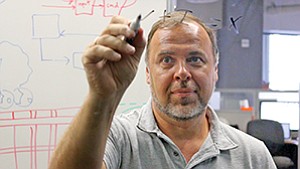 San Diego — After seven years, San Diego-based Brain Corp. is finally going commercial.
Once part of Qualcomm Inc. and still funded by the giant, the independent firm is getting set to lend its formidable brainpower to … scrubbing floors.
Actually, that job description seems unfair.
Brain Corp. makes technology that helps autonomous robots move through a space and put their surroundings in context. The company's first project starts with a battery-powered vehicle that scrubs floors in shopping malls and big-box stores, one that normally needs a human driver. "They're kind of like Zambonis," Brain Corp. executive Phil Duffy said.
An established manufacturer provides the floor scrubber. The San Diego company provides the smarts that let the machine navigate by itself — to remember a route, to make sense of changing surroundings and to avoid people who might cross its path.
The company calls its artificial intelligence technology EMMA, short for Enabling Mobile Machine Automation. Brain Corp. estimates it's looking at a $38 billion opportunity in commercial robots.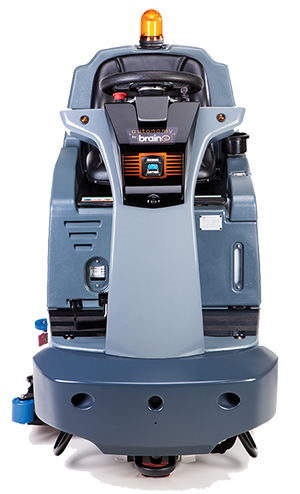 800 Pounds With a Brain
The business begins with a stock machine from manufacturer International Cleaning Equipment, which at 800 pounds is about the size of a large lawn mower.
In its Mira Mesa space, company technicians equip the rig with a computer brain, mobile communications gear and 13 sensors: a video camera for machine vision, several sonar units and some backward-firing lasers.
But that's not the best part.
"The real magic is in the software," said Brooke Beers, the company's controller.
The software knits all of the sensor data together, and determines how the machine behaves.
There is no GPS in a store interior, Duffy also said, so Brain Corp. designed a navigation system "from scratch."
Aisles, But No Shoppers
The back area of Brain Corp.'s 22,000-square-foot space is divided into an R&D cell, a manufacturing cell, warehouse space, and something you don't normally see in factories: a test zone laid out like the aisles of a big-box retailer. One of the company's robotic cleaners was navigating a pre-programmed route through the retail displays, stopping and giving a "beep beep" when it was about to round a curve.
"See how close it comes to that obstacle?" said Duffy, Brain Corp.'s vice president of marketing. The machine nearly clipped a yellow sandwich board that marks a wet floor.
When the robot sensed a human body from afar, however, it stopped cold. After a few seconds' hesitation, the machine started moving again, this time making a wide curve around the person.
To program the machine, Duffy shifted the machine into manual mode, got on board and steered the cleaning rig through the store shelves, then back to its home base. Once finished, he poked a touchscreen a couple of times to save the route. The user interface is deliberately simple.
He climbed off, pushed a few buttons and the machine repeated the route he just drove. Turn for turn.
Program this to cover the space of one Wal-Mart store, Duffy said, and it effectively programs the machines to cover all Wal-Marts.
The machine carries a Qualcomm 4G LTE microchip for communication back to Brain Corp.'s Robotic Operating Center in San Diego. The center collects information from all of its EMMAs. Lessons learned go back out to all the robots in the field.
Goal: Software as a Service
Like cows in a stock pen, a group of ICE model RS26 scrubbers sat in the high-ceilinged work area of Brain Corp. Two machines fresh from their Michigan manufacturer sat 8 feet off the floor on warehouse shelving. The company is able to convert one machine a day to autonomous operation, Duffy said.
The plan is to make the conversions in Brain Corp.'s space at first — perhaps for six to 12 months. After that, he said, an original equipment manufacturer such as ICE can take the electronics into its own plant, and provide the autonomous vehicles straight from the factory.
Ultimately, Brain Corp.'s business model will be software as a service, with a monthly fee.
Brain Corp. received two rounds of funding totaling $11 million from Qualcomm Ventures. As of early October, the business was working to assemble a series C round from several sources, including firms on Silicon Valley's Sand Hill Road.
CEO Eugene Izhikevich and board member Allen Gruber co-founded the business. Izhikevich holds a Ph.D. (he has led research into the the spiking patterns of neurons) while Gruber is a medical doctor (who was formerly part of Intervu Inc. and Kintera Inc. — two San Diego firms long since sold to bigger companies). Company board members also include Qualcomm alumnus Harvey White as well as Quinn Li, top executive at Qualcomm Ventures.
Brain Corp. plans to roll out pricing for its converted ICE scrubber at a janitorial trade show in late October. The business was also set to unveil a machine made by a another manufacturer.
Duffy said Brain Corp.'s technology is manufacturer agnostic and sensor agnostic. That is, it can work on any manufacturer's machine, and it can work with a partner's choice of sensors.
What's next? Brain Corp. may one day apply its technology to forklifts or medical equipment.
BRAIN CORP.
CEO: Eugene Izhikevich
Revenue: Undisclosed
No. of local employees: 37
Investor: Qualcomm Ventures. All employees have equity.
Headquarters: Mira Mesa
Year founded: 2009
What makes the company innovative: Brain Corp. technology turns "dumb" machines into autonomous robots that can sense their surroundings