Startup LeadCrunch Raises $500,000 Through CONNECT Program
Wednesday, October 12, 2016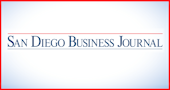 UPDATE: An earlier version of this article said LeadCrunch had raised $200,000. However, Olin Hyde confirmed that the funding has increased to $500,000.
Local software startup LeadCrunch has landed $500,000 in funding through CONNECT's Capital Match program.
The round was led by Bay Area investor ExCapsa Group, and was joined by Bialla Venture Partners 2 LLC. Other investors include the former CEOs of Net Ratings, Goldman Sachs, and FICO.
LeadCrunch was introduced to the investors through one of CONNECT's programs to help startups get linked with capital.
"Based on the data in the last few Innovation Reports and what we were hearing from entrepreneurs, we knew we needed a robust effort to help identify and bring investment capital to San Diego," said Greg McKee, president and CEO of CONNECT, in a statement. "Capital Match was one of the first programs we started to connect entrepreneurs with capital."
In February, the business accelerator launched Capital Match, which puts startups through rigorous screening to help make the jobs of investors a little easier. After all, highly vetted companies are less risky investments.
LeadCrunch, the first company to receive funding through the Capital Match program, develops software that makes B2B sales and marketing personalized and more effective. It collects vast amounts of data and then uses artificial intelligence to find insights.
"We need capital to conquer a $160 billion industry," said LeadCrunch's CEO Olin Hyde in a statement. "Common wisdom is that all venture capital is local. Yet, there are no B2B high-tech VC's in San Diego. So we turned to CONNECT for help."
Hyde said before the entering the Capital Match program, the company was preparing to relocate to the Bay Area.
"We had offers for funding that required us to move," Hyde said. "Fortunately, CONNECT helped us find investors that recognized that staying in San Diego provided our company with the advantages of lower operating costs and recruiting and retaining great technical talent."

LeadCrunch was previously incubated at UC San Diego's StartR accelerator and EvoNexus. The company won "Cool Company" awards from the San Diego Venture Group in 2015 and 2016.