POLITICS: CHARGERS AGREE TO 8 CONDITIONS, INCLUDING CAP ON COSTS
Mayor Cites Protections, Backs Measure C
Originally published October 6, 2016 at 9:53 a.m., updated October 6, 2016 at 9:53 a.m.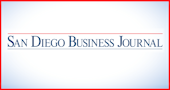 San Diego — Mayor Kevin Faulconer has endorsed Measure C, the San Diego Chargers' November ballot proposition to finance a $1.8 billion downtown stadium with convention facilities, after the team agreed to eight conditions including a cap on project costs.
Where They Stand
Here's the latest rundown on organizations that have
made their views known on Measure C and Measure D:
YES: Downtown San Diego Partnership (Measure C); BIOCOM (Measure C);
San Diego Regional Chamber of Commerce (Measure C); League of Women Voters San Diego (Measure D); League of Conservation Voters San Diego (Measure D); JMI Realty and founder John Moores (public support of Measure C, major funding of Measure D).
NO: San Diego Tourism Authority (Measures C and D); San Diego County
Hotel-Motel Association (Measures C and D); San Diego County Taxpayers Association (Measures C and D); No Downtown Stadium (Measure C); East Village People (Measure C); Coalition for Fair Employment in Construction (Measure C).
No official stance but not in favor: Executive boards of San Diego Tourism Marketing District (Measure C) and San Diego Convention Center Corp. (Measure C).
Faulconer's Oct. 3 endorsement followed earlier votes of support by the executive boards of the San Diego Regional Chamber of Commerce and the Downtown San Diego Partnership.
"It is important to have professional sports that bring our community together," Faulconer said in a statement posted to the mayor's Facebook and Twitter accounts. "But it's no secret that I've had concerns about Measure C."
The mayor said after discussions with residents, experts and Charger fans, he concluded there needed to be "stronger protections for taxpayers and our tourism economy" in the Chargers' plan.
"I'm pleased to say the Chargers have agreed to my terms and have committed to safeguards that better protect the city's fiscal health and economy," Faulconer said. "This provides the public with substantial protections if the measure passes."
Faulconer said if Measure C does not pass, "the Chargers and the NFL know that they can work with this city to chart a new way forward."
Tourism Marketing Backed
In a letter to Faulconer dated Sept. 29, Chargers Chairman Dean Spanos said the team is "honored to have your endorsement today." The letter does not address what might happen if Measure C is defeated at the polls.
Provided it passes, Spanos told the mayor that the team will not move forward on the project if costs to be funded by an increased transient occupancy tax on hotel room bills exceed the Chargers' previous estimates. The team has estimated that total project costs, apart from annual operating and maintenance, will total $1.8 billion, with $1.15 billion to be allocated from hotel taxes.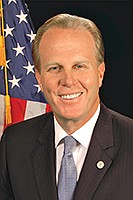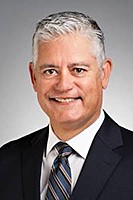 The team and its supporters, on Nov. 8, are seeking through Measure C to raise city hotel taxes, currently totaling 12.4 percent, by a net 4 percent to finance the city's cost of a new East Village facility.
Spanos said the team has also agreed to protect the full 2 percent assessment that currently goes toward local tourism marketing, and that the general fund will not be used to fund construction or operating costs for the facility.
Non-Relocation Agreement
In addition, the city will receive all revenue from non-NFL stadium events, and the Chargers have agreed to sign a non-relocation agreement that is not shorter than the debt repayment term on bonds to be issued for the project. Currently, Measure C specifies that the non-relocation agreement will span at least 30 years, and that the bond repayment can span up to 40 years.
The Chargers have also agreed to reimburse the city for all pre-construction costs already expended within a preapproved budget, apart from land acquisition, in the event that the team relocates prior to the start of construction.
The team will fully replace parking that is expected to be displaced for the project at Tailgate Park, and has agreed the project may not proceed until neighborhood quality-of-life issues are fully addressed to the mayor's specifications.
Some of the conditions were previously raised by the San Diego Regional Chamber of Commerce and the Downtown San Diego Partnership, when those business groups issued their own endorsements of Measure C.
Partnership Backing
The Downtown San Diego Partnership announced Sept. 30 that its board of directors has voted to support Measure C. The nonprofit business advocacy group said its board's decision followed six months of "dedicated due diligence and research" on the proposal.
"This is no rush to judgment," said Frank Urtasun, board chairman of the downtown organization. "The Partnership held three public forums, 13 meetings and met with 26 individuals representing 14 organizations."
From those meetings, the group came up with a "considered set of conditions" that the Chargers have agreed to resolve.
"That's why over 75 percent of our board supported this position," the statement said.
Like the Chamber in its earlier endorsement, the Partnership called on the Chargers to address issues including replacement of parking that would be lost by development of Tailgate Park; protection of the city's general fund and other money that currently goes toward the city's Tourism Marketing District; resolving of scheduling conflicts that might result from NFL games; management of historical resources; and inclusion of other elements to prevent traffic, noise and other disruptions.
A Place on the World Stage
Partnership President and CEO Kris Michell said the group has "a long history of supporting large iconic projects and a sports and entertainment district downtown," noting that the Chargers' project is representative of both.
"Vibrant downtowns attract young, talented entrepreneurs, international visitors, and business professionals alike," Michell said. "A joint-use football stadium and convention center facility will put San Diego on the world stage and contribute to the year-round vibrancy enjoyed by world-class urban centers."
The Partnership represents more than 350 member organizations and 11,000 property owners.
At its own news conference responding to the mayor's announcement on Oct. 3, representatives of an opposition coalition called No Downtown Stadium said a new independent study commissioned by opponents estimates the stadium project would cost taxpayers $3.4 billion over 30 years when operating costs are figured in.
Also on the November ballot is Measure D, a proposal by a citizens' group — led by attorney Cory Briggs and former city councilmember Donna Frye, among others — that would use proceeds from a 3 percent hotel tax increase to potentially finance a non-waterfront convention facility and improvements to the current Mission Valley site of Qualcomm Stadium.