TECH: TECHNOLOGICAL, MECHANICAL ABILITIES SHAPED OFF COLLEGE TRACK
At This Institute, It Is About Degree of Interest and Aptitude
Originally published October 6, 2016 at 9:32 a.m., updated October 6, 2016 at 9:32 a.m.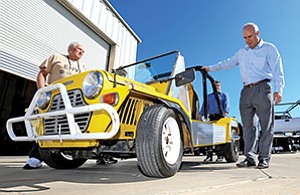 San Diego — Behind a big roll-up door, in warehouse space at the back of Coleman University on Balboa Avenue, Rod Weiss, James Burns and several other technologically inclined people have put together a space called ENVI.
The Electric & Networked Vehicle Institute is a place for mechanically and technically minded students who might not have access to San Diego's other institutions.
Here students and their mentors meet on Saturdays and certain evenings to get their hands dirty on the latest technology. That includes Earth-friendly, electrically driven motor vehicles.
It's more than sustainability on the table. The group also tinkers with flying drones and autonomous underwater vehicles.
Teams take on individual projects, complete them in the space of a few months, and then move on to something else.
Burns describes the projects as "3-D resume" pieces. A student can go to a prospective employer and describe what he or she contributed to the project.
One of the latest projects was repowering a Moke. The lightweight, all-purpose British military vehicle is kind of like a Jeep, and a close relative of the Mini Cooper.
Weiss, Coleman's director of development, looked on with approval as the group showed off the finished project. Burns, who holds a doctorate in mechanical engineering, was an outside mentor. He also ponders questions about heavy-duty electric vehicles in his day job. Burns is vice president and chief scientific officer for Poway-based TransPower (see related story).
A Little Yellow Taxi
The electric vehicle's sponsor is an Encinitas resident who provided the gasoline-powered Moke for the students to modify. Their specific challenge was to design and build an electric drive system that would let the driver take his daughter to school — a 20-mile round trip.
It was a real-world situation with a real-world customer, Burns said. And just as it is in the working world, students jump in on a project that is already in progress, familiarize themselves with what has been done so far and take the steps necessary to bring the project to its completion.
"For most of your life, you'll be part of something you didn't start," Burns said.
Students equipped the yellow Moke with new batteries (which went under the running boards), an electric motor as well as all the other necessary electronics (which went under the seats). They also built a new fuel tank for the Moke's legacy gasoline engine.
During a recent electric vehicle meetup at Qualcomm Stadium, the group proudly showed off its finished product, billing the project as the world's first four wheel drive plug-in hybrid electric Moke Californian.
Open Opportunity
Burns said ENVI is not another incubator. It's an alternative to the four-year college, which can have its drawbacks, he said. The populations that ENVI and Coleman want to serve include people who have recently separated from the military or others not on the college track.
ENVI is a welcome addition to Coleman, said Norbert Kubilus, who runs the Kearny Mesa institution. Since the place is a commuter school, it's good to have something in addition to class that keeps the students on the campus, the CEO said.
ENVI is on the lookout for more students — and more mentors.
Packages to Pizza Delivery
The ENVI group has tackled several other projects. Students built and wrote code for an underwater vehicle that participated in a recent robotic submarine contest at the U.S. Navy lab on Point Loma. The sub, now displayed in Coleman University's lobby, finished in the middle of the pack. It beat out other large, well-known schools, Kubilus said.
Under mentor Rob Gubala, the group is also doing a lot of work with hobby-size quadcopters. Coleman University is considering whether to build a space where students may safely practice flying them.
The group at ENVI is also looking toward a two-year project — converting a popular kit-built car into a 500-horsepower, electrically powered model.
Burns, who seems to be one of the main drivers behind the ENVI lab, has plenty of other ideas.
A short distance from the shop, I pointed out a 300-pound, three-wheeled Spira vehicle, built in China.
Burns wondered aloud why such a vehicle couldn't be autonomous.
Package delivery using flying drones is supposed to be a cost-saver. Burns said the lightweight Spira would be a natural candidate to deliver pizzas autonomously in Pacific Beach.
Later in the evening, he added, beach denizens who might have had a little too much to drink could get a lift home as the vehicle operated autonomously.