Hollywood Casino Jamul-San Diego to Open Oct.10
Thursday, October 6, 2016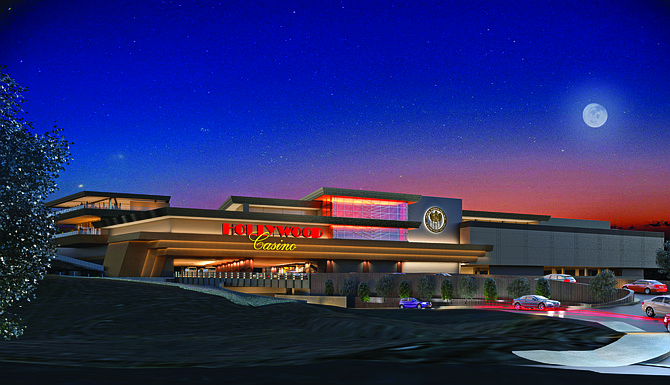 Managers of Hollywood Casino Jamul–San Diego have chosen Monday, Oct. 10, as the attraction's opening day.
The $400 million venue will be San Diego County's ninth American Indian casino.
The Jamul Indian Village, which owns the land under the casino, teamed up with Penn National Gaming Inc. to build the facility. The casino and parking garage finally went up after the tribal government made several false starts with other business partners.
Casino operators had been waiting for a final OK from federal regulators. Penn National (Nasdaq: PENN) said in an Oct. 5 statement that the corporation and the tribe received final approval from the National Indian Gaming Commission for Penn National to manage the facility.
"In addition, JIV (Jamul Indian Village) intends to proceed with the approximately $460 million refinancing of the project, which was recently the subject of a declination letter from the NIGC (National Indian Gaming Commission).
The Jamul band and Penn National have been advertising heavily, announcing the opening on billboards and television spots, but never giving a firm date. Jamul is 20 miles from downtown San Diego, lying southeast of Mount Helix, Spring Valley and El Cajon.
The casino has 1,700 slot machines; 43 gaming tables; eight restaurants, bars and lounges; and 1,800 parking spaces. Penn National said the development created 1,000 casino jobs.
The development came against the wishes of many Jamul neighbors; some residents oppose it vehemently. Their complaints included fears of increased traffic on state Route 94 and development of their back country neighborhood.
Penn National had advanced $299.1 million to the tribe as of June 30, the corporation said in a securities filing.
In announcing the opening on Oct. 5, Penn National offered some financial details of its pact with the Jamul Indian Village:
"Pursuant to the NIGC's authorization, Penn National will serve as the manager of Hollywood Casino Jamul – San Diego for an initial term of seven years and will earn a fee of 30 percent of net revenue (earnings before taxes as defined by the NIGC) for the management of the facility, as well as a licensing fee of 2 percent of gross revenue for the use of the Hollywood brand and marketing services.
"The approximately $460 million refinancing, to be obtained by an affiliate of JIV, is expected to close shortly after the facility opens and is anticipated to cover development costs (including those advanced by Penn National), retirement of tribal debt, working capital and financing costs.
"Penn National will continue to hold approximately $125 million of the refinancing debt, which is expected to accrue interest at a rate of LIBOR [London Interbank Offered Rate] plus 8.5 percent."
Penn National warns shareholders in its latest quarterly earnings report that there are risks with the Jamul project, including community opposition and several pending lawsuits.