Accion Receives $1 Million Federal Grant
Tuesday, October 4, 2016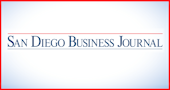 San Diego-based nonprofit microlender Accion has been awarded a $1 million grant from the U.S. Department of the Treasury's Community Development Financial Institutions Fund – the largest grant in the organization's 22-year history.
Accion's San Diego organization, a branch of the Accion U.S. Network, offers business loans from $300 to $75,000 to businesses in San Diego, Imperial and San Bernardino counties.
"We are so pleased to be recognized by the U.S. Department of the Treasury through this award," said Elizabeth Schott, CEO of the San Diego branch. "We look forward to continuing to strengthen the roots of underserved communities by providing essential capital to local entrepreneurs who may not be able to obtain it otherwise. This $1 million grant will enable us to reach more business owners than ever before."
Accion will use the money for loan capital to be deployed in San Diego and Imperial counties, the organization said.
The grant tops Accion's formerly largest grant, the $880,000 CFDI Fund grant Accion San Diego received in 2014.
Members of the Accion U.S. Network received $4.75 million in grants this year from the CDFI Fund. The other recipients were branches in New York City and Albuquerque, New Mexico.
In total, more than $185 million in CDFI Fund grant money went this year to 196 organizations nationwide.