Three Tenants Pre-lease Space at Carlsbad Industrial Development
Wednesday, November 30, 2016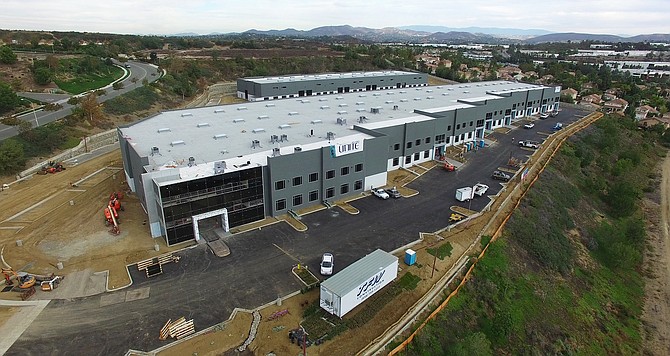 Developer RAF Pacifica Group has signed three tenants at a new speculative industrial project currently under construction in Carlsbad, including global hair products supplier Unite Eurotherapy.
A statement from Encinitas-based RAF Pacifica said leases at the 156,977-square-foot development, at 2870 and 2864 Whiptail Loop, have also been signed by B&D Nutritional Ingredients of Vista, which distributes dietary supplements, and Hydrogenics, a Canadian developer and manufacturer of clean-energy technology including fuel cells.
Unite Eurotherapy,which also currently has operations in Vista, has preleased 54,018 square feet, roughly one-third of the Carlsbad development, to serve as its new corporate headquarters. Combined with B&D's 10,994 square feet and Hydrogenics' 5,509 square feet, the project is now 50 percent pre-leased.
The project, known as "el•e•vate," is slated for completion in 2017. The developer is currently under negotiation to lease another 25 percent of the facility, located in the Carlsbad Oaks North business park.
Financial and other terms of the lease deals were not disclosed. RAF Pacifica Group was represented in the transactions by Mike Erwin, Conor Boyle and Tucker Hohenstein of brokerage firm Colliers International Group Inc.
Led by Principal Adam Robinson, RAF Pacifica Group has acquired more than $100 million in commercial real estate assets and land for development in 2016. The firm has more than 1 million square feet of speculative development planned over the next 24 months, much of it in North County.