Software Co. TicketSauce Raises $2.5 Million in Series A Round
Wednesday, November 30, 2016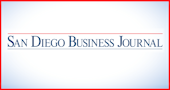 Events management software company TicketSauce has raised $2.5 million in a Series A funding round led by Santa Monica-based venture capital firm Draper Frontier Capital.
San Diego-based TicketSauce said in a Nov. 29 news release it will spend the money to help drive its sales and marketing and increase distribution within the events management industry.
"We are pleased that our investors recognize the value in our products and appreciate their confidence in continuing to grow our customer base worldwide," TicketSauce President and CEO Travis Fisher said in the release.
Draper Frontier's managing partner, David Cremin, said TicketSauce is "perfectly positioned" to expand its client base, which now includes CBS Radio, Gannett and Tribune Publishing.
The specific Draper Frontier fund involved is its Opp & Tech fund.
Draper Frontier invests in early-stage U.S. media and technology companies. The organization has offices in Los Angeles, New York, Portland, Sacramento and Santa Barbara.
TicketSauce offers a software-as-a-service platform focused on increasing revenue and data for media companies, event organizers and convention and visitor bureaus.