San Francisco, Here We Come …To Steal Your Tech Talent
Originally published November 23, 2016 at 1:38 p.m., updated November 23, 2016 at 1:38 p.m.
San Diego — If you build it, they will come. If they don't… well, then lure them with tacos.
An unprecedented effort to recruit tech talent from Silicon Valley down to San Diego will launch early next year, with hopes of legitimizing San Diego's technology brand and adding some fuel to the startup fire.
The plan is to place a digital billboard on one of the Bay Area's busiest and most gridlocked freeways, with sassy one-liners to bait technology workers down south (For example, "Get a job. Get a life. Get a taco," "Hey engineers: Remember how much fun you used to be?" and "Today's surf report: San Diego is better").
SanDiegoisBetter.com
That's the main theme of the campaign: San Diego is better. In fact, every billboard message will sign off with "SanDiegoisBetter.com" — a website that markets the region's perks (263 days of sunshine, and an average of 23-minute commutes, for example).
The cheeky campaign is the brainchild of the San Diego Venture Group and its president Mike Krenn. The idea is more tech talent will lead to more venture capital funding for local startups.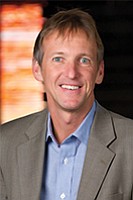 "San Diego has to become a more recognized technology brand," Krenn said. "We need to make an impression in Silicon Valley. We have to be up there consistently with powerful messages."
Krenn said the idea for the campaign came from recent chatter about new graduates in San Diego taking the first flight to San Francisco.
"I'd heard this conversation a hundred times," Krenn said. "But I realized, these people are 21 years old, and they've just graduated… we should let them go. Let them get trained up at VMware (Inc.) or Intel (Corp.) — and when they're frustrated by traffic, or they're upset that they can't get their kids in a good school — then we'll bring them back."
Vibrancy of S.D. Tech
Technology recruiter Jared Sanderson said the venture group's campaign is right on the money. He said when recruiting Bay Area talent to San Diego, his biggest challenge is convincing them that San Diego's technology hub is vibrant and varied.
"They want to know there's going to be multiple opportunities, and that they'll have plenty of exciting technology companies to work for if they move around," said Sanderson, director at Savya Solutions.
While the weather, beach, and overall quality of life are big selling points for San Diego, Krenn said building the technology hub's brand is the first priority.
"People understand the quality of life thing," Krenn said. "They misunderstand the technology here."
Besides the legacy technology firms that have been in San Diego for decades, Sanderson said he's seen an increasing number of job opportunities coming from the local startup scene. It's these newcomers, along with the existing powerhouses, that the campaign will highlight.
The Job Fair
The San Diego Venture Group will launch the campaign in February, culminating in a huge job fair in Mountain View that is expected to draw 500-1,000 attendees. Fish tacos and San Diego craft beer will be provided, of course.
Krenn said the job fair will feature more than 40 San Diego technology firms, including Illumina Inc., Dexcom Inc., Human Longevity Inc., Qualcomm Inc., ViaSat Inc. and Intuit Inc. The job fair will also feature local startups, including Portfolium, Classy, and Seismic.
Participating companies are helping to finance the costs of the campaign, which are expected to reach $80,000.