David Inns Named EY Entrepreneur of the Year
Tuesday, November 22, 2016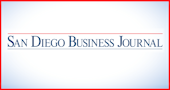 The CEO of San Diego-based GreatCall, David Inns, has been named 2016's EY Entrepreneur of the Year in the national award's services category.
The honor is intended to call attention to entrepreneurs who demonstrate extraordinary success in innovation, financial performance and personal commitment to their businesses and communities.
"I'm honored to be recognized as both an entrepreneur and a leader in active aging services," Inns said in a news release.
GreatCall develops mobile products, including health and safety devices, designed specifically for older adults. Among its offerings is the Jitterbug Flip phone and the Lively Wearable daily fitness tracker that doubles as an urgent response alert wristband.